L.A. to Pay $50,000 to Ex-Cop Who Killed Fellow Officer, 'Would Have Been Happy' to Shoot 'Whole Truckload' of People
Detective Frank Lyga said his only regret about the fatal 1997 shooting of a black officer whom he mistook as a gang member was that "he was alone in the truck at the time."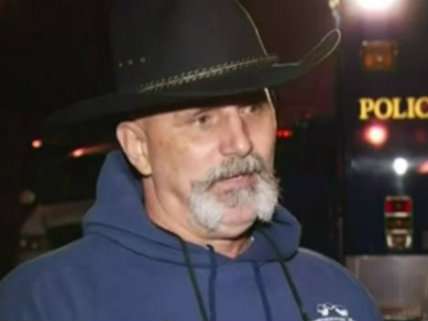 During a 2013 police training seminar, long-time Los Angeles Police Department (LAPD) Detective Frank Lyga recalled being asked if he regretted fatally shooting a fellow officer back in 1997 when the two men—Lyga white; the other officer, Kevin Gaines, black and working undercover—were involved in a road-rage incident. "I said, 'No, I regret he was alone in the truck at the time," Lyga responded. "I could have killed a whole truckload of them, and I would have been happy doing it."
While Lyga later said that by "them" he merely meant anyone threatening him, many interpreted him to have meant "a whole truckload" of black people—confirming some's supicions, originally raised at the time of the shooting, that racial bias played a role in Lyga's reaction. Lyga told people after the shooting that he thought Gaines, who had verbally threatened him, was a gang member.
During the training seminar, Lyga also called Carl Douglas, the prominent civil-rights attorney who had represented Gaines in a civil suit against Lyga, a "little ewok"; described another officer as a "fruit"; and called a former female LAPD captain a "very cute little Hispanic lady who couldn't find her ass with both of her hands" and had been "swapped around a bunch of times."
When an audio recording of these remarks—recorded by a police trainee in attendance—became public, the city placed Lyga, a 28-year LAPD veteran, on paid administrative leave.
The LAPD Board of Rights eventually found Lyga guilty of misconduct and recommended that he be fired, but Lyga retired before the police chief could file his termination paperwork. Then he filed a federal lawsuit against the city, alleging he was unfairly targeted due to "political pressure" from the black community because he was a "white police officer who was wrongfully perceived to be racist." Lyga sought $300,000 in damages, back pay, and reinstatement as an LAPD detective.
In an agreement signed by a deputy city attorney Friday, the city admitted to no "past or present wrongdoing" but agreed to pay Lyga $50,000 to settle the suit.