Huge Ratings Uptick for CNN's Second Libertarian Town Hall, As 1.6 Million Tune In
Gary Johnson, Bill Weld capture highest ratings for 25-54 demographic on cable news Wednesday night.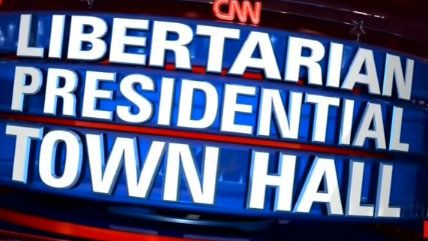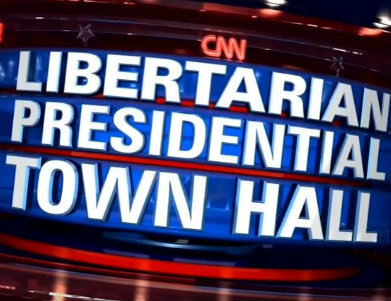 The Libertarian Party Town Hall event hosted by CNN on Wednesday night was the highest rated show on cable news in the coveted 25-54 demographic for the night.
More than 1.6 million viewers tuned in to the hour-long event featuring Libertarian presidential candidate Gary Johnson and vice presidential candidate William Weld.
Perhaps more important than the raw numbers is the massive uptick in viewership for Wednesday's event compared to a similar Libertarian Town Hall discussion hosted by CNN on June 22. Overall viewership was up 74 percent and viewership in the 25-54 demographic increased by 101 percent—more than doubling the "in demographic" audience for the first town hall with Johnson and Weld, CNN reported Thursday.
The Libertarian Town Hall outperformed CNN's usual programing in the 9pm slot. Anderson Cooper, who served as host and moderator for the discussion with Johnson and Weld, got 1.3 million viewers for his show in the same time slot on Tuesday night and only 1.1 million viewers for the same hour on Monday.
The big numbers caught the attention of media analyst Brian Stelter, who notes that the Libertarian Town Hall even beat ratings beast Bill O'Reilly on Wednesday.
It's likely that Wednesday's event was the largest TV audience ever for a Libertarian Party presidential candidate. That shouldn't be a surprise, considering how many Americans are fed up with the binary political system, in general, and with the two choices coughed up by that binary political system this year, in particular.
Johnson is averaging 8 percent in four-way polls with Trump, Clinton and Jill Stein, the Green Party candidate. He cracked 10 percent in two polls released this week, both taken before Wednesday's event.
It's too soon to know whether the Town Hall will help Johnson in the polls, but Wednesday's ratings and previous polls show many Americans are looking for an alternative.
Did Johnson and Weld give their 1.6 million viewers that alternative?
They came off as a "sensible alternative" to Clinton and Trump, writes Reason editor in chief Nick Gillespie. "Johnson and Weld were calm, optimistic, and straightforward in how they answered questions from moderator Anderson Cooper and various audience members."
But there were some slip-ups. While Johnson and Weld succeeding in seeming "human, humane, decent, calm, and at least compared to their major party competitors, thoughtful," Reason senior editor Brian Doherty says they didn't do a great job of articulating actual Libertarian positions on some issues, pushing instead a centrist, anti-partisan message.
For Reason's full recap of the second Libertarian Town Hall on CNN, watch here: