NYPD Sued for Refusing to Reveal Data on Millions in Asset Forfeiture Revenue
Public records show the NYPD collected $6 million in asset forfeiture revenue in 2013, but a new lawsuit is seeking more info.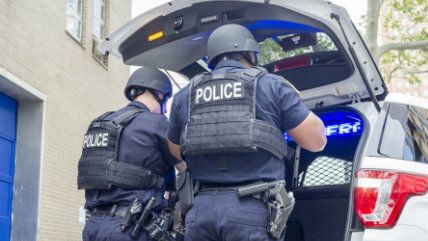 (Frances M. Roberts/Newscom)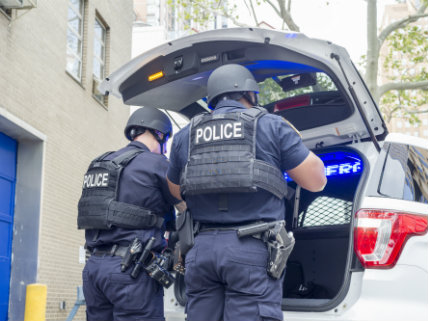 The New York City Police Department is stonewalling a records request for information on how it collects and distributes "tens of millions" of dollars in seized cash and property under asset forfeiture laws, according to a lawsuit filed Thursday by Bronx Defenders, a legal aid organization that assists low-income people.
The lawsuit, first reported by the New York Daily News, says the NYPD dragged its feet for a year and half before inadequately responding to a 2014 public records request by Bronx Defenders for the department's policies and procedures for seizing property under forfeiture laws.
And when the NYPD finally handed over the documents, after several delays and extensions, the response consisted merely of 14 pages of accounting summaries and copy of the NYPD patrol guide.
However, the scant records the Bronx Defenders got back show that the NYPD reported more than $6 million in revenue in 2013 from seized cash, forfeitures, and property sold at auction. The NYPD had a balance of more than $68 million in seized currency in any given month of that year, according to the documents.
Adam Shoop, the lead attorney for Bronx Defenders in the case, said that, of the $6 million, only $1 million was collected through auctions or completed forfeiture actions. The rest, it appears, was simply seized and never recovered by the property owners, Shoop said.
"Based on my experience, part of the reason would be there's a really byzantine scheme of hoops people have to jump through to get their property back," Shoop said.
One bit of data the NYPD does publicly release is "unclaimed cash and property" sales, which totaled $6.5 million in 2014 and more than $7 million in 2015, according to the lawsuit.
Bronx Defenders filed the request in light of a 2014 Gothamist investigation revealing the hardships people in New York City face in retrieving their seized property:
In the middle of the night in March of 2012, NYPD officers burst into the Bronx home of Gerald Bryan, ransacking his belongings, tearing out light fixtures, punching through walls, and confiscating $4,800 in cash. Bryan, 42, was taken into custody on suspected felony drug distribution, as the police continued their warrantless search. Over a year later, Bryan's case was dropped. When he went to retrieve his $4,800, he was told it was too late: the money had been deposited into the NYPD's pension fund. Bryan found himself trapped in the NYPD's labyrinthine civil forfeiture procedure, a policy based on a 133-year-old law which robs poor New Yorkers of millions of dollars every year; a law that has been ruled unconstitutional twice.

"They do this all the time, to so many people I know," Bryan, a bartender of 21 years, told us in the office of the Bronx Defenders. Before the raid, he had planned on using the cash to take his girlfriend on a cruise. "A lot of people, when they get arrested, they know that their money is just gone, and they know that the police are taking it to enrich themselves."
Shoop said the NYPD's more than 300,000 arrests a year, the majority of them for low-level offenses under the "broken windows" model of policing, are a major driver of seizures.
The Bronx District Attorney announced last week that it would be streamlining its process for citizens to retrieve their seized property in response to another Bronx Defenders lawsuit, which alleged that the NYPD Property Clerk held seized property for much longer after arrests than the 15 days mandated by the city's rules.
Meanwhile, New York City Council member Ritchie Torres introduced a bill last year, expected to be discussed this September, that would require the NYPD to release annual data on seized property.
The NYPD is notorious for stonewalling public records requests and generally flouting state transparency laws. For example, I've had requests for weapons discharge reports denied, even though they were declared public records by a state appeals court in a previous lawsuit. I also had a request for officer reports of stolen and lost guns denied because they were deemed "personnel records." The NYPD even once claimed that its Freedom of Information handbook was exempt from freedom of information requests.
The NYPD did not immediately respond to a request for comment.