Gary Johnson: I Will Not Be Describing Hillary Clinton on CNN Tonight as a "Wonderful Public Servant"
Libertarian nominee also says he's got no specific olive branch for #NeverTrump conservatives, aside from demonstrating fiscal conservatism and a sound temperament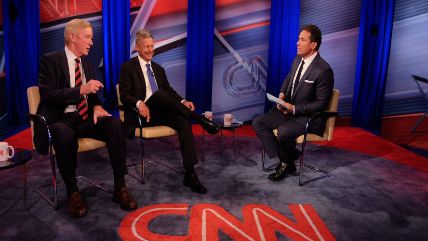 Tonight at 9 p.m. ET, CNN is hosting a second town hall discussion with Libertarian Party presidential and vice presidential nominees Gary Johnson and William Weld. This time it will be star anchor (and skilled debate-moderator) Anderson Cooper in his normal prime-time slot, instead of the more affable substitute Chris Cuomo. Here is CNN's preview.
I caught up with Johnson and his communications director, Joe Hunter, over lunch this afternoon for a preview. Due to user error, I did not record the conversation, but here are some essential takeaways:
* Johnson will not be calling Hillary Clinton a "wonderful public servant." The first Libertarian CNN town hall, on June 22, was given indifferent-to-negative reviews, in part due to Johnson's awkward and inaccurate answer to Cuomo's prompt to describe Clinton in one word. Adding to the discomfort was Weld's unbridled personal enthusiasm for the Democratic nominee.
Weld told me when I interviewed the L.P. ticket at FreedomFest that Johnson wishes he could "walk it back," then Johnson said the same to Nick Gillespie and I when we interviewed him at the Democratic National Convention. When I asked him today what he would be doing differently tonight, he zeroed in on that comment. What would be the new word? "Beholden."
Johnson emphasized that everything Clinton said during here DNC speech called for bigger and bigger government, and he also talked with wonder about the pay-to-play allegations made in Peter Schweizer's new book and related documentary Clinton Cash: The Untold Story of How and Why Foreign Governments and Businesses Helped Make Bill and Hillary Rich, though he didn't anticipate bringing it up tonight.
* Johnson has not been preparing any targeted rhetorical olive branch to #NeverTrump conservatives, even in the wake of this week's Donald Trump freakouts. I asked how he would be responding to what may soon be a "preference cascade" of Republicans ditching Trump, and Johnson said merely by demonstrating a comparatively calm, competent, and likable temperament. "We won't even have to mention Trump by name!" he said, stressing yet again that he's just Not That Guy when it comes to personal attacks.
But even the Democratic president of the United States has been addressing potential #NeverTrumpers, so don't you want at least nod in that direction, I wanted to know? Not particularly, he said. What do you tell those conservatives who keep complaining to me that it seems like he's not even trying to cultivate them? That "we're the only serious fiscal conservatives" in the race, he said. Which, it must be acknowledged, is supposed to be kind of important to Republicans, particularly those appalled by Trump.
Related: Read Brian Doherty from earlier today on "The Uphill Fight of Republicans for Johnson/Weld."
* Fundraising is night and day compared to four years ago. Yesterday, while not being any kind of 24-hour-money bomb or anything, the campaign raised $150,000, Johnson said. There are now something like eight different SuperPACs associated with helping his race. After lunch he was off to meet some unnamed rich person who is potentially interested in donating. They will be using campaign money on targeted radio ads in the Mountain West and Northeast, Hunter said.
* Likeability is still important. Like last time, Johnson is focused on projecting likability to the viewers at home. Though, he hastens to add, not in the bend-your-views-to-make-them-acceptable kind of way, but rather in the "I disagree with what you say but I like you anyway" way. The obvious idea is to demonstrate a contrast to two historically unliked candidates, who keep doing unlike-worthy things.
* It's the independents, stupid. Here's a Joe Hunter sentence worth pondering: "If the election was held today, among independents who know who he is, Gary Johnson would win outright."
The candidate continues to do disproportionately well among self-identified independents, polling consistently in the double digits, and eking out some second-place results in state and even national polls. Name recognition is still low, so getting into a million or so households tonight is an important step in addressing that. And since independents are the now the largest political bloc, and Millennials are even more independent than the rest of the population (Johnson does particularly well with that age group as well), the future of politics lies somewhere near here.
Click this link for a pile of recent Reason interviews with Johnson and Weld.