Louisiana's Licensing Laws Nearly Destroyed This Woman's Eyebrow Threading Business. Now She's Fighting Back.
State requires 750 hours of classes on unrelated skills.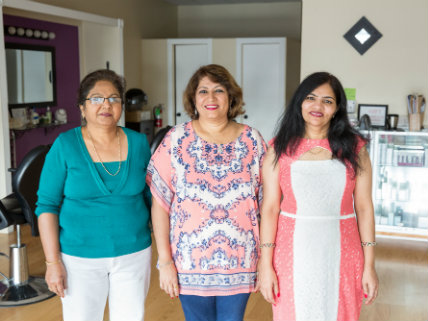 When Lata Jagtiani talks about how the government tossed her out of business, you can almost see her shaking her head in a mix of confusion and frustration.
"I don't understand. I was making money, my customers were happy, my employees were happy," she says. "We weren't doing anything wrong."
But in the eyes of the Louisiana state government, Jagtiani was doing something wrong. As the owner of an eyebrow threading business called The Threading Studio and Spa, Jagtiani employed workers who hadn't been licensed by the state to practice the trade. Her business—operated out of a kiosk in the Lakeside Mall mall in the suburbs of New Orleans—didn't have access to hot and cold running water.
Eyebrow threading, it should be noted, doesn't require running water.
The state does, though, because it applies the same regulatory standards to eyebrow threading that it does to full service salons and spas. It does the same with regard to licensing, requiring a full aesthetician license before an individual can legally thread eyebrows. Obtaining that license requires 750 hours of classes in unrelated skills like applying makeup and styling hair—but not one class in threading.
Threading is a traditional South Asian practice in which a cotton thread is used to pluck unwanted hair from the face. Jagtiani learned how to do it then when she was 14-years-old, before immigrating to the United States from India. After seeing the popularity of eyebrow threading in New York, she decided to open her own threading business in 2012 after moving to Louisiana.
For 10 dollars and five minutes of your time, you could grab a seat at Jagtiani's kiosk and have one of her employees shape your brows without the pain of wax or the difficulty of shaving.
Every six to eight months, Jagtiani says, the state inspectors would visit and issue a warning because she was operating without running water and without proper licenses.
Last year, things got more serious when Jagtiani received a fine of $5,000 and was forced to move out of her location in the mall. She has now relocated to a strip mall nearby, which has the requisite supply of tap water but she says it's more difficult to attract as many customers in the new location.
"People said to me 'don't move, don't move,' and I had to tell them 'it's not my decision, the state board, they are making me move,'" Jagtiani said in an interview last week.
She also had to fire two employees, Ushaben Chudasama and Panna Shah, earlier this year, after the state Board of Cosmetology, which enforces the licensing rules, caught them working without a license.
On Tuesday, Jagtiani, Chudasama and Shah filed a lawsuit against the Louisiana State Board of Cosmetology, challenging the legitimacy of the licensing laws that cost them their jobs and jeopardized the future of Jagtiani's business.
The three plaintiffs are being aided by the Institute for Justice, a national libertarian law firm that last year scored a victory over a similar eyebrow threading licensing law in Texas.
The lawsuit was filed in the state court for the East Baton Rouge Parish.
Meagan Forbes, the lead attorney on the case for IJ, says the restrictive licensing law isn'tviolates part of the Louisiana state constitution protecting individual's right to earn a living. Jagtiani's business does not represent a threat to the health or safety of her customers, Forbes said in an interview last week, and therefore the state has no authority to shut her down.
Steve Young, executive director of the Louisiana Board of Cosmetology, could not comment Monday on the lawsuit, which he had not seen. He said the licensing requirements were necessary to protect the public's health and safety.
"We're not picking on anyone," he says. "You have to follow the law. You can't take a specific license and pick out one part of it."
Asked if there was evidence of people being endangered by unlicensed beauticians in Louisiana, Young said they weren't "because we have a licensed and educated population."
"Were it not so, we would have disease on every corner," he says.
Other requirements, like the mandatory supply of running water, are necessary to ensure an sanitary environment. Inspectors are told to check for proper licensing and to do thorough checks for cleanliness at salons and spas, he said.
Jagtiani understands why the state has an interest in licensing workers to ensure customers' health and safety, she says, but doesn't understand why the licensing process is so onerous. A few weeks of training is all it takes to learn how to thread eyebrows—and she should know, since she's had to train her licensed employees how to do it, because the cosmetology schools don't.
Chudasama and Shah each have more than 25 years of experience with threading. Despite their lack of a license, there's no doubt they know what they are doing. Jagtiani said repeat customers would often ask for them by name.
If her business was unsafe or unclean, would there even be repeat customers?
"Licensing is a real problem in Louisiana," says Forbes. "More often than not, these rules exist to protect industry insiders and existing businesses from competition."
The Institute for Justice has fought Louisiana over licensing rules for florists and casket-makers. The state is the eighth most onerously licensed state, according to the organization's 2012 rankings.
Getting an aesthetician license in Louisiana requires 750 hours of classwork at a cosmetology school and can cost as much as $13,000. Students have to pass three exams—two written and one practical exam—before being licensed.
"It's too many hours, and they don't even teach threading," says Jagtiani. She says sheinitially took about 50 hours of classes in an attempt to get licensed, but stopped because she couldn't take that much time off from her business to learn skills she never planned to use.
The end result is that anyone who goes through the process to get licensed won't know how to thread, while anyone who does know how to thread—most likely because they, like Jagtiani, Chudasama and Shah, learned as part of a family or cultural heritage—has to go through and expensive, time consuming and pointless training process to be licensed.
The Texas Supreme Court last year struck down a similar licensing scheme, in a case brought by IJ on behalf of Ash Patel, a plaintiff in the case and the owner of an eyebrow threading business that was forced to close its doors.
Like in Louisiana, Texas required 750 hours of training and a full cosmetology license before anyone could legally thread eyebrows. Writing for the majority in the 6-3 ruling, Justice Phil Johnson said that requirement was "not just unreasonable or harsh, but it is so oppressive that it violates" the Texas constitution's protections of individuals' right to earn a living.
A concurring opinion, filed by Texas Supreme Court Justice Don Willett, might be the most libertarian legal opinion ever written.
"This case is fundamentally about the American Dream and the unalienable human right to pursue happiness without curtsying to government on bended knee," Willett wrote. "It is about whether government can connive with rent-seeking factions to ration liberty unrestrained, and whether judges must submissively uphold even the most risible encroachments."
The three plaintiffs in Louisiana are asking those questions, based on rights also enshrined in their state's constitution.
Since losing their jobs at Jagtiani's threading salon, Chudasama and Shah are now working multiple part-time jobs to support their families. Both came to America from India seeking a better life, says Forbes, and Chudasama has four kids she's trying to put through school, a goal that's become more difficult since she lost her threading job, which allowed her to make money and remain connected her heretage.
"I want to build this business," Jagtiani said. "And I'd like to continue to run the business for the sake of my employees, for my customers and for my family."