The Department of Veterans Affairs Blew $1.2 Million on Decorative Rock Sculptures
From 2004 to 2014, the government-run health agency spent more than $20 million on luxury art.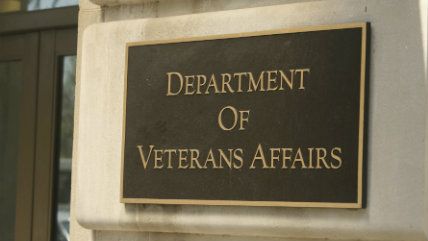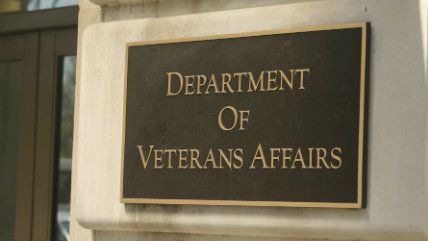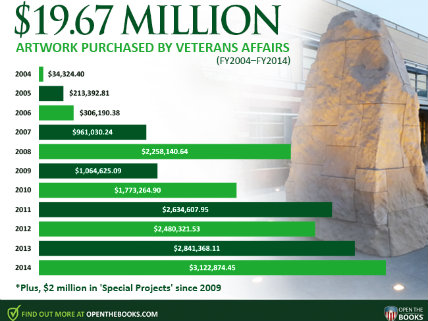 As long waiting times and bureaucratic inertia left veterans unable to get medical care, the federal Department of Veteran's Affairs was spending more than $1.2 million on a giant rock.
The "large decorative rock" outside the VA's Palo Alto Health Care System cost $489,000. The VA also paid another $800,000 to prepare the site for the rock's installation, according to a new report from Open The Books, a government spending watchdog.
That's one of the more questionable purchases detailed in the new report, which looks at how the VA spent more than $20 million between 2004 and 2014 on luxury artwork.
"Included in the expenditures is a 27-foot artificial Christmas tree for $21,500 delivered to Chillicothe, Ohio and two sculptures costing $670,000 for a VA facility in California that serves blind veterans," reported Open The Books.
The VA also spent $285,000 on decorative rocks that spell out a message in Morse code on the side of a parking garage. A VA hospital in Puerto Rico spent $600,000 on artwork in a five year span and a facility in Biloxi, Mississippi, that was fingered as one of the worst VA hospitals in the country managed to spend $168,000 on 25 separate purchases.
"I think it's outrageous, but frankly not that surprising," Shaun Rieley, a research analysts for Concerned Veterans for America told ABC News on Friday.
Not spending money on fancy sculptures and expensive artwork probably wouldn't have done anything to fix the ongoing problems at the VA. That's because the problems at the VA aren't caused by a lack of funds—although Congress "addressed" the VA crisis the only way it knows how: by throwing more money at the department.
Rather, the single-payer health care system for America's soldiers is beset by systemic problems: pervasive mismanagement, poor customer service, and a complete lack of accountability that included a culture of "whistleblower retaliation."
While waiting lists were growing longer and some veterans were dying before they could see a doctor, all 470 executive officials at the VA were rated "fully successful" in annual reviews for 2014. That same year, an internal VA audit found "57,436 newly enrolled veterans facing a minimum 90-day wait for medical care; 63,869 veterans who enrolled over the past decade requesting an appointment that never happened."
If you're not going to fail an annual review for overseeing that disaster, you're probably not going to get in trouble for blowing six-figures on some artwork. And if they hadn't wasted the money on giant rocks, the VA's track record suggests that money would have been flushed away on something else.
Still, it gives you an idea of where their priorities lie.