This County In Michigan Has the Most Juvenile Life Without Parole Sentences in the US
Wayne County, Michigan is an "extreme outlier" in sentencing juveniles to life without parole, and the local prosecutor intends to keep it that way.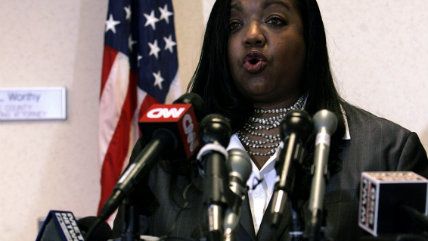 (Detroit Free Press/ZUMAPRESS/Newscom)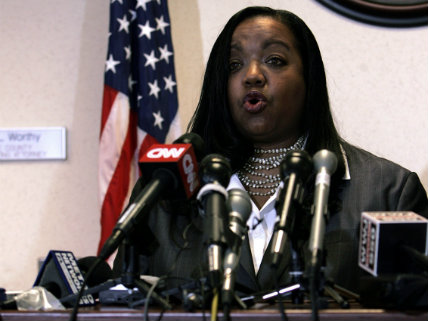 Wayne County, Michigan leads the country in sentencing juveniles to life in prison without parole, according to a report released Thursday by the Fair Punishment Project.
The report found there are roughly 150 people serving life without parole in Wayne County who were sentenced as juveniles. That number makes the county "an extreme outlier," the report says, in the use of juvenile life without parole (JLWOP) sentences, which have declined across the country in recent years.
In January, the Supreme Court ruled that its 2012 decision, which found juvenile life without parole unconstitutional except in rare cases, applied retroactively. Under that precedent, all states must revisit their existing JLWOP cases, either resentencing them or making them eligible for parole.
Last Friday Wayne County Prosecutor Kym Worthy announced that "the public should rest assured that we will aggressively pursue life without possibility of parole" in 60 out of the 145 JLWOP cases it reviewed.
"Although we had a short amount of time under the statute, we gave a considered and thoughtful review," Worthy said in a press statement. "We combed trial transcripts, prison records, and numerous other documents. We sought input from victims' families, when they could be located during this short window of time. Without commenting on my personal opinion, we have fulfilled our obligation to protect the public and to follow the spirit and intent of the Supreme Court decisions."
Philadelphia was previously held the most juvenile lifers, but the Philadelphia D.A. ended the practice in June and announced it would be resentencing all of the 300 inmates who were sentenced to life without parole as juveniles. According the Fair Punishment Project report, a majority of states in the U.S. have either ended the practice entirely or have less than five individuals serving the sentence.
"There is growing national consensus that life without parole is an inappropriate sentence for kids," Rob Smith of the Fair Punishment Project said in a statement. "D.A. Worthy's decision to again seek life without parole for one out of three individuals who were convicted as juveniles is completely out of line with the Supreme Court's ruling, mounting scientific research, the practices of prosecutors across the country, and years of experience that have shown us that youth are capable of change and deserve an opportunity to earn their release."
The report also noted the disparity in sentencing—both in terms of volume and race—between Wayne County and the rest of Michigan.
"While Wayne County has just 18 percent of the statewide population, it has at least 40 percent of the JLWOP sentences in the state of Michigan," the report states. "Most incredibly, African-Americans are 39 percent of Wayne County's population, but more than 90 percent of the individuals serving juvenile life with parole sentences from the county are black."
One person sentenced to life without parole as a juvenile in Michigan was Richard Wershe Jr., a local Detroit legend more infamously known as "White Boy Rick." Wershe was sentenced to life without parole in 1988 at age 17 for possession with intent to deliver 17 pounds of cocaine under mandatory minimum guidelines. I wrote about Wershe's case in 2014.
Although the drug law he was sentenced under has been reformed, and Wershe has since been resentenced to life with the possibility of parole, the Wayne County Prosecutor's Office has repeatedly argued against his release, despite testimony in his favor from former FBI and DEA agents.
A Wayne County trial court granted Wershe another resentencing hearing last year in light of the recent Supreme Court ruling, but Worthy's office appealed. An appellate court ruled against Wershe and reversed the lower court's decision. Wershe is now 46 years old. His next chance at parole is in 2017.