On the Day That Hillary Clinton Accepts the Democratic Nomination, Bernie Sanders Hangs Out at the Hampton Inn
It's an on-brand choice for the Democratic Socialist senator.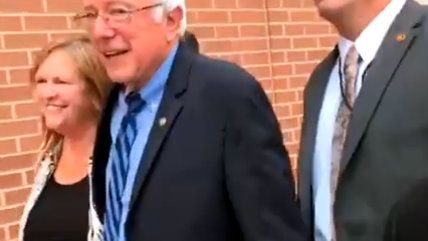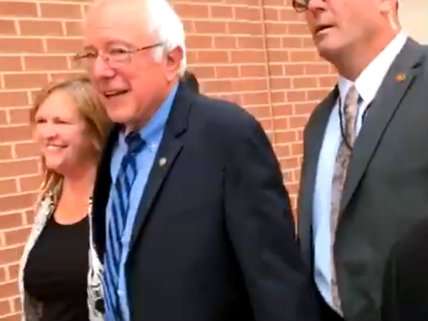 On Thursday afternoon, I exited the Pennsylvania Convention Center to find myself in the midst of small group of people trailing Sen. Bernie Sanders. He was walking with his wife and four security guards, followed closely by a few camera-pointers and others simply excited to spot their preferred Democratic presidential candidate in the wild. While Hillary Clinton may be the woman of the hour, all the buzz outside official convention caucuses and speeches this week has been about Sanders.
And now here he was, in the flesh, walking with an affable grin on his face—waving to supporters, waving away reporters, whispering with his wife. I tag along for a few blocks until we reach a building which the Sanders and two guards enter. Two stay stationed outside to keep us riffraff out. People in Bernie Sanders t-shirts jump up and down and embrace in excitement. I look up to see where Sanders entered. It's a Hampton Inn. 
Sanders is famous for economical travel, so the idea that he and his wife are staying at the Hampton Inn for the convention is kind of perfect. (It's the flipside to Donald Trump flying home from Cleveland after the first night of the Republican National Convention so he could sleep in his own bed in New York.) The Hampton Inn is a step above stalwarts of wholesome, middle-class family travel like the Howard Johnson or Best Western, but it's nothing fancy or unique. Hilton's affordable brand, the chain is described by Wikipedia as "moderately priced, midscale hotels with limited food and beverage facilities." In any event, it seemed on brand for Sanders.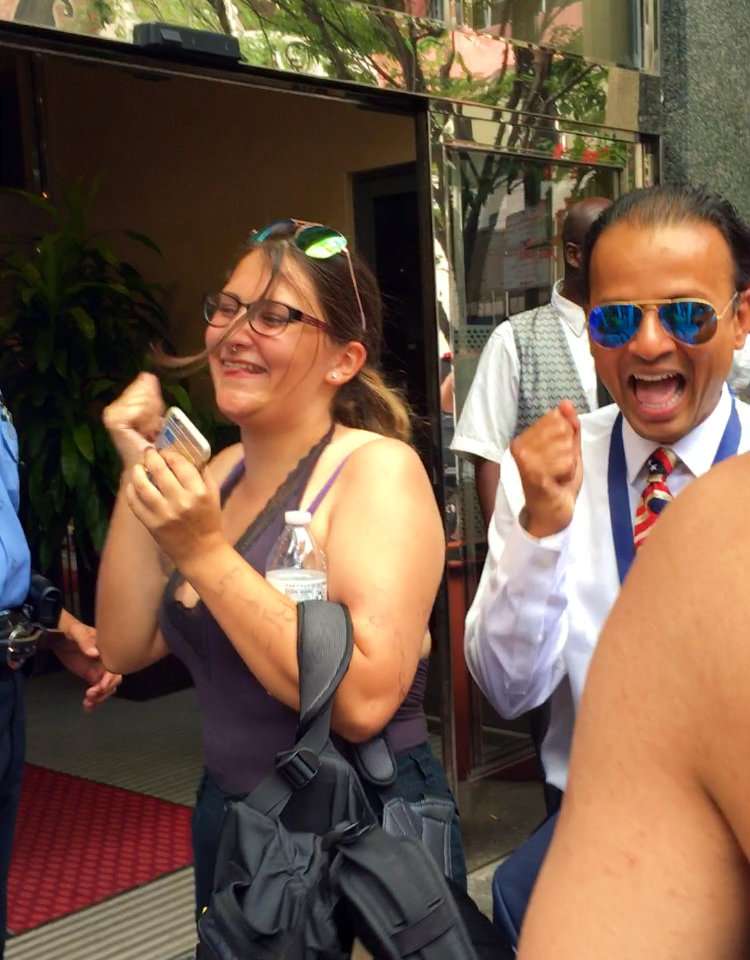 And that brand has, if nothing else, inspired a lot of loyal supporters this election season. The small crowd who happened to see Sanders strolling down the street Thursday morning and trail him reacted afterward like they had just seen a pop star, all squeals and group hugs.
As they trailed Sanders down the streets of Philadelphia, the motley crew—young women with backpacks and arm tattoos in short shorts and midriff-baring "Bernie" tees; young men neon wayfarer sunglasses and Black Lives Matter shirts; Gen Xers in black-rimmed glasses and fedoras; older women in baseball caps and hippie dresses—they chanted his name and "this is what democracy looks like."
"Bernie, you are the Mahatma Gandhi of America!" shouted one heavily-accented man wearing an American flag tie and pin.
After a while, the chants turned to "Bernie beats Trump! Bernie beats Trump!" which seemed a bit nonsensical until one fellow traveler elaborated: "Trump beats Hillary, Bernie beats Trump."
There's always 2020 in Philadelphia for Bernie Sanders fans.