A.M. Links: Hillary Clinton Addresses DNC Tonight, Gary Johnson Pulls Support From Clinton and Trump, Turkey Shuts Down 130 Media Outlets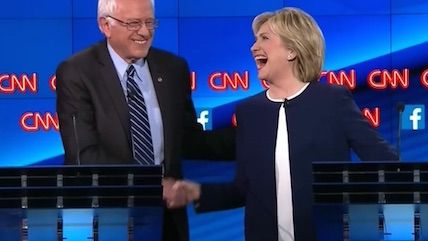 CNN

Hillary Clinton will speak tonight at the Democratic National Convention.

Speaking at the Democratic National Convention last night, President Barack Obama urged the country to support Hillary Clinton over "homegrown demagogues" like Donald Trump.
Supporters of Bernie Sanders continue to protest inside and outside the Democratic National Convention.
Libertarian candidate Gary Johnson "is pulling support from both Clinton and Trump."
Turkey has now shut down 130 media outlets in the wake of the failed coup.
"German Chancellor Angela Merkel, under pressure after two terror attacks by asylum seekers in the space of a week, said she was still convinced that Germany could handle the influx of migrants and refugees."
Follow us on Facebook and Twitter, and don't forget to sign up for Reason's daily updates for more content.