The New Vikings Stadium Is a Broken Window Metaphor Come to Life
Vandalism at the Minnesota Vikings new stadium turned the $1.1 billion glass structure into a hulking metaphor about the folly of publicly-funded ballparks.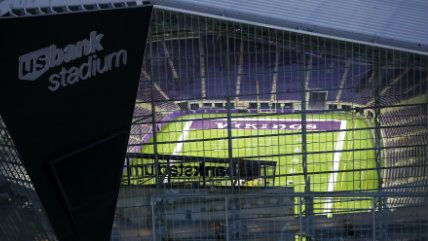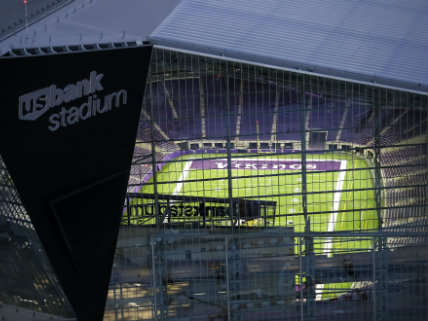 Friday's grand opening of U.S. Bank Stadium, the $1.1 billion new home of the National Football League's Minnesota Vikings, was marred by a bit of vandalism. The façade of the new stadium was damaged last week when a vandal tossed a rock through one of the hundreds of glass panels that cover every inch of the stadium's exterior.
The result: a hole big enough for a small human to crawl through, according to the Minneapolis Star-Tribune. The 10-foot-by-five-foot exterior glass panel was smashed, though an interior panel did not break.
The newspaper said stadium security suspect the rock responsible for the damage was part of a "pile of decorative rock" located adjacent to the stadium's north side.
You have to wonder about the wisdom of leaving "piles of decorative rock" next to billion-dollar rendition of a Jawa sandcrawler covered in glass. It makes a very inviting target if you find it pleasant to break something from time to time, or if you're frustrated by the expense of the publicly funded stadium and want to make Austrian economic parables come to life.
That's because U.S. Bank Stadium, like many of today's taxpayer-funded professional playgrounds, is itself a giant testament to the enduring power of the broken windows fallacy.
Minnesota taxpayers fronted $348 million for the stadium, thanks to legislation signed in 2012 by Gov. Mark Dayton. The same bill required Minneapolis to fund an additional $150 million for the stadium, which the city did by increasing hospitality taxes.
Like the broken window in Bastiat's parable—which points out that economic activity redirected from one "unseen" purpose to another "seen" one, as in when a broken window is repeaired, does not produce a net positive in economic activity—new stadiums don't generate new economic activity, they merely redirect it.
In other words: What could have been done with those millions of dollars had they remained in the hands of Minnesota families and businesses? We'll never know.
But we do know that the stadium is unlikely to generate net economic benefits for the Twin Cities.
"Sports facilities attract neither tourists nor new industry," concluded economists Andrew Zimbalist and Roger G. Noll at the Brookings Institute in a report published nearly two decades ago, as cities across the country were embarking on a stadium-building binge. "A new sports facility has an extremely small (perhaps even negative) effect on overall economic activity and employment." 
At the end of the 2010 season, the average public bill for the 121 professional sports stadiums in the United States was $259 million, according to research from the University of Michigan. The same study found that taxpayers lost $31 billion in net economic costs for stadium construction. 
A 2012 analysis by Bloomberg found that taxpayers were on the hook for more than $4 billion in bond payments for professional sports stadiums built since 1996.  
Yet local governments keep committing big bucks to stadium projects.
In Hartford, Connecticut, local officials have blown through $63 million on a publicly financed stadium and still don't have anything to show for it. In Cobb County, Georgia, county officials had to raise taxes to keep public parks open after spending $400 million on a new stadium for baseball's Atlanta Braves. 
The list goes on and on. And on. 
Incredibly, the Vikings say it will take up to two months to replace the damaged window at U.S Bank Stadium, since all the glass panels were custom-made.  There's no word on how much those massive, custom-made glass panels will cost to replace, but they probably won't be cheap.
Just add that to the tab. Taxpayers in Minnesota are already paying for $16 million in cost overruns (though the Vikings have generously offered to cover $4 million worth) at U.S. Bank Stadium.
At least the glaziers will have work.