Sanders Delegates Looking to Nominate Alternative to Tim Kaine
Say Clinton campaign has not made overtures for party unity.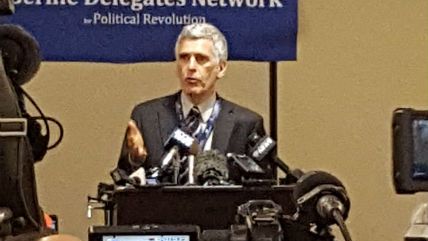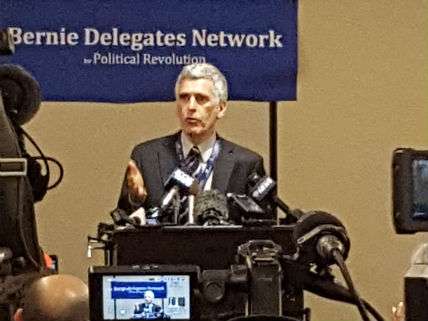 The Bernie Delegates Network, a "reflective, not directive" grassroots network of about 1,250, or two thirds of, Bernie Sanders delegates, held a press conference this morning to express their displeasure with the Democratic party as the convention comes to a start in Philadelphia today, and indicated delegates would try to put forward an alternative vice presidential nomination, but would not offer any names.
California Sanders delegation co-representative Karen Bernal said delegates came to Philly "with an entirely different agenda than what the Democratic party would like to see itself part of." She reported that DNC chair Debbie Wasserman Schultz was booed at the Florida delegate breakfast and that California delegates booed other speakers at their breakfast. They were also in Philadelphia "to talk about actually the power structure, its corruption, the fact that we utterly reject the system we're operating in now," said Bernal.
"The California delegation is not happy about this at all," said Manuel Zapata, a Bernie Sanders delegate and volunteer. "We are progressives and we are true progressives," saying it was "disrespectful" that a "madman" like Republican presidential nominee Donald Trump was reaching out to Sanders supporters more vigorously than HIllary Clinton.
The delegates who spoke at the presser, all from California, mentioned the selection of "neo-liberal" Tim Kaine as a running mate and the selection DNC Chair Debbie Wasserman Schultz' as an honorary chair with the Clinton campaign after she resigned as DNC chair over allegations stemming from the leak of the DNC's email database that the party had "colluded" with Clinton during the primaries.
Norm Solomon, the national coordinator of the delegates network, insisted that delegates "understand the necessity of defeating Donald Trump," and that one of the reasons they were disappointed with the selection of Kaine as Clinton's running mate was that it was "not a move that will solidify support from progressives" and that it would not "strengthen our hand to defeating Trump."
Sanders delegates are interested in presenting a vice presidential candidate of their own, according to Solomon, who said the selection of Kaine could "facilitate a Trump victory" and that there was "overwhelming support for a strong challenge" to Kaine on the floor this week. He said 300 delegate votes, with no more than 50 from any one state, had to sign on to nominate a vice presidential candidate, and said he hoped the DNC would not delay in making the necessary forms available.
Solomon slso suggested action on Wasserman Schultz. "If Hillary Clinton wants to move today toward more party unity," Solomon said, she should admit "mistakes were made making Debbie Wasserman Schultz an honory chair. She should be disempowered of that post before she even takes it on Friday.'
The delegates at the press conference also argued with members of the media about the merits of booing and other symbols of protest at the convention itself. One pointed out that what appeared to be Sanders delegates outside were chanting "lock her up," a popular refrain at last week's Republican convention. The delegates repeatedly highlighted that they could not and would not speak for all Sanders delegates when questions of floor tactics came up. Asked what they would do if Sanders suggested a course of action for them, they insisted they would "take it under advisement," as they would suggestions from anyone. "It's still essential to defeat Donald Trump," said Solomon.