Bernie Fans March on the DNC and They Won't Vote for Hillary, Trump, or Gary Johnson
Reason interviews the Bernie Bros and Bro-ettes.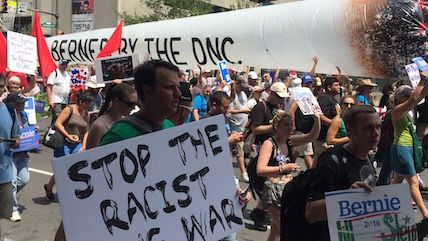 At least a hundred pro-Bernie Sanders protesters made the long march from Philadelphia's City Hall to the headquarters of the Democratic National Convention on Monday afternoon—no easy feat, given the sweltering 97-degree heat. The progressive marchers had two things in common: they were soaked in sweat, and they hated Hillary Clinton.
"If Hillary Clinton becomes nominee, we will not vote for her," said one protester, a mom named Sarah Stovall who marched alongside her young daughter.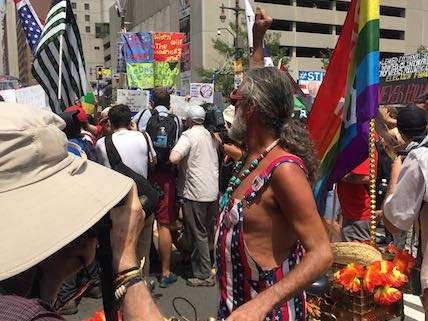 It was a popular sentiment among the crowd. Many people carried signs that said "Never Hillary." There were even a few "Hillary for Prison" signs—a slogan generally reserved for pro-Trump Republicans.
Two hundred people do not represent the entire core of the Democratic Party, of course. But the energetic protest is a sign that Clinton is little loved by her far-left base. The crowd overwhelmingly consisted of young people—an age group with which Clinton garners scant enthusiasm. (Trump has issues with millennials as well.)
"No Hillary," said another woman. "Never Hillary. She's the 1 percent and also she's a warmonger."
The rally represented a range of other issues, from Black Lives Matter to climate change to drug legalization. The focal point of the march was a giant inflatable joint bearing the message "BERNED BY THE DNC." Recent revelations concerning the DNC—the perception that former chairwoman Debbie Wasserman Schultz sabotaged Sanders—were a source of frustration for the protesters, who clearly believed their champion wasn't given a fair chance.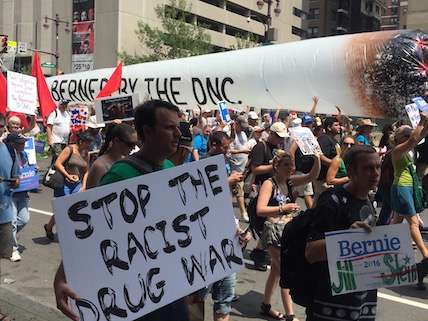 "I'm protesting against the DNC," said Diana Doughty, a 25-year-old who described herself as "pretty much Bernie or bust." She said she would vote for Jill Stein if it came down to Clinton or Trump.
Indeed, Stein was largely seen as the only plausible alternative, if Clinton does indeed clinch the nomination as expected. No one seemed to be for Trump, and the few people I spoke with showed little love for Gary Johnson.
"I'm interested in [Johnson] but I have some concerns," said Allison Martin, a young woman who wasn't sure who she would end up voting for. Martin said her top issue was "staying out of additional and unnecessary wars."
While the march was almost entirely anti-Hillary, not everyone was fully committed to backing an alternative. One young man, KC Miller, called the Bernie-or-Bust-crowd a "disgrace," even though he was surrounded by them.
"They're going to let Donald Trump become the next President of the United States of America," said Miller. "Donald Trump just pulled ahead of Hillary Clinton," he added, referencing a recent poll. "We can't divide the party."
When I mentioned that I wrote for a libertarian magazine, Miller added that he was rooting for Gary Johnson to qualify for the debates.