Glenn Beck: "I'm probably going to vote for Gary Johnson"
GOP delegates from D.C. also switch to the L.P. candidate, but don't believe those Jeb Bush rumors.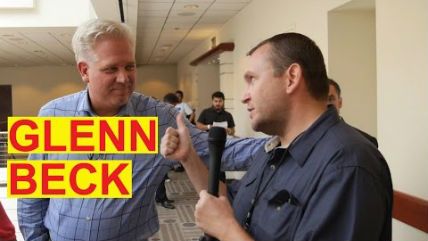 (YouTube, by way of RedState)
In a brief interview yesterday with jeff4justice of the No More 2 Party System YouTube channel, the increasingly libertarian political commentator and media impresario Glenn Beck was asked whether he was going to vote for Libertarian Party presidential nominee Gary Johnson. Beck, who had previously gushed about L.P. presidential candidate and eventual runner-up Austin Petersen, replied: "I'm probably going to vote for Gary Johnson," though "I haven't made my final decision yet."
Beck also gave a brief mea culpa for previously playing into binary, two-party thinking, and vowed that "You're going to see some changes at The Blaze come this fall that I think it's going to be very good for libertarians." Watch the whole clip here:
In other Johnson-endorsement news, The Daily Beast reported yesterday that the vice chair of the Washington, D.C. Republican Party, Gary Teal, has announced that he's voting for the Libertarian and therefore resigning his post within the GOP. He was joined by three other D.C. delegates to the RNC:
Justin Dillon, Kris Hammond, and Peter Lee—who were wearing #NeverTrump buttons—spoke to The Daily Beast in the hallway of Quicken Loans Arena, just minutes after Donald Trump finished his keynote speech on Thursday night. "The RNC has bungled this nomination process by having bad rules," Teal said, referring to a controversy over nominating rules that caused chaos on the convention floor Monday. "And now at this convention, they've sacrificed integrity in favor of unity."
Prior to the convention, Rhode Island Republican State Sen. Dawson Hodgson, who is described as "prominent" by The Providence Journal, resigned as a delegate and pledged his support to Johnson. Other elected officials supporting Johnson include:
* Nebraska State Sen. Laura Ebke (R).
* Nevada Assemblyman John Moore, who was elected as a Republican but switched to Libertarian.
* New Hampshire State Rep. Max Abramson (R).
* Montana State Rep. Nicholas Schwaderer (at least as listed on the Johnson/Weld endorsements page and on Wikipedia; Schwaderer's June 28 Facebook post extolling the virtues of the L.P. ticket concludes with less decisive language: "I recommend that you hear what they have to say and genuinely take on board their perspective. In a cycle of vitriol I believe that this ticket deserves a slot on the Presidential debate circuit; if anything the[y] elevate the rhetoric on the stage and entice all three candidates to bring this debate back to policy." I have emailed Schwaderer for clarification.) UPDATE: Schwaderer wrote back on Sunday. "That was an endorsement pre-cursor," he expained. "Representative Daniel Zolnikov (R – age 29) and myself (R – age 27) are doing a full-on release with our joint endorsement of Johnson-Weld tomorrow morning." So add another one to the list!
* Utah State Sen. Mark Madsen (R).  
Anthony Fisher found other Utah delegates who said they were leaning Johnson, and when Nick Gillespie and I interviewed a bunch of Millennial delegates at the RNC, it was hard to find any who didn't prefer Gary Johnson to Donald Trump.
Still, the big endorsement gossip yesterday was about whether Johnson was going to get the nod this week from former Florida Gov. Jeb Bush. A source close to Bush told Reason that nothing had changed since Bush's July 15 Washington Post op-ed, in which the onetime GOP frontrunner wrote that "I haven't decided how I'll vote in November—whether I'll support the Libertarian ticket or write in a candidate—but I do know there are a lot of things Republicans can do in the coming months to lay the groundwork for rebuilding our party and the foundation for a true conservative renewal in our country."
Johnson vehemently denied any Bush-endorsement scuttlebutt when I asked him about it in our chaotic Facebook Live interview Wednesday. Johnson campaign spokesman Joe Hunter texted me last night "No looming endorsements, contrary to what the twitterverse seems to think."
But as Johnson told Vice News correspondent Michael C. Moynihan (formerly of Reason, and currently of The Fifth Column) on Thursday, perhaps with a smidge of hyperbole, "I was here all day yesterday at the Republican National Convention, and I had one thousand people tell me they were going to vote for me….Nobody took one single poke at me."