David Duke Running for Senate in Louisiana
We really are reliving the 1990s, aren't we?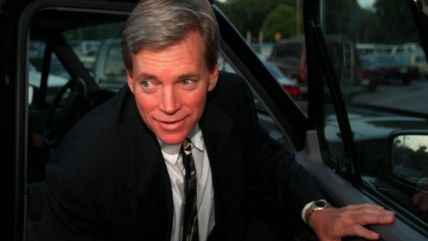 (St Petersburg Times/ZUMAPRESS/Newscom)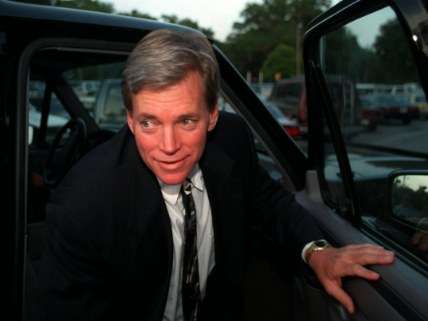 Former Ku Klux Klan grand wizard David Duke announced today he was running for U.S. Senate to try to get back in office in his home state of Louisiana, where racial issues are currently touchy, to say the least.
Duke will be running as a Republican (he has belonged to both parties at different points of his life, as well as having previously been a member of the American Nazi Party and later a member of the Reform Party) and an open Donald Trump supporter. He has famously been praising Trump and Trump had previously been reluctant to disavow Duke. As Jacob Sullum previously noted, Duke is the only presidential candidate (he ran back in 1992) to have higher unfavorable ratings than Trump.
USA Today notes that the Republican Party is having nothing to do with Duke:
Roger Villere, chairman of the Republican Party of Louisiana, quickly condemned Duke.

"The Republican Party opposes, in the strongest possible terms, David Duke's candidacy for any public office," Villere said in a statement. "David Duke is a convicted felon and a hate-filled fraud who does not embody the values of the Republican Party.

"The party of Lincoln and Reagan is one that recognizes the inherent value of every human life, regardless of age, religion or race. David Duke's history of hate marks a dark stain on Louisiana's past and has no place in our current conversation. The Republican Party of Louisiana will play an active role in opposing David Duke's candidacy."
Representatives from the Republican Party nationally were equally unimpressed and said Duke would not have the support of the National Republican Senatorial Committee.
The details of the race suggest that Duke is just going to be a sideshow, probably to nobody's surprise. This race is to replace Republican David Vitter, who is stepping down (he got his seat in the first place by defeating Duke). There are currently 23 candidates in the race including a retired colonel who joined the fight today. Col. Rob Maness, described as a "tea party favorite" by Louisiana newspaper The Advocate, blamed the Obama administration and Congress for terrorist attacks in the United States. According to USA Today, Maness said that the United States should have declared war on the Islamic State immediately after the Sept. 11 attacks, which makes utterly no sense.
In any event, it is increasingly clear that we're going to be reliving the 1990s for the rest of the year. You're encouraged to dress accordingly.