Criminal Justice Reform Groups Pan Trump's No-Good Speech on Crime
"What we heard runs counter to what American law enforcement knows to be true: Our country's crime rates are at historic lows."
(CHINE NOUVELLE/SIPA/Newscom)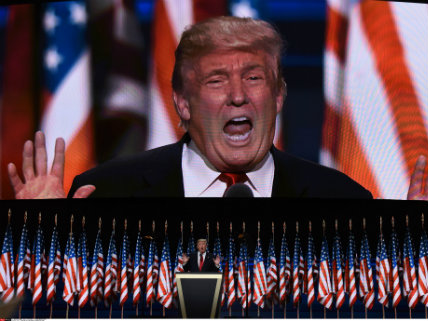 In a primetime convention speech heavy on selectively chosen crime statistics but light on context, Republican presidential nominee Donald Trump claimed violent crime was on the rise in the U.S. But criminal justice reform groups and criminologists say the real numbers paint a more complicated picture, and it's still too early to tell whether recent upticks in violent crime are just an outlier.
In his speech to accept the Republican nomination for president Thursday night, Trump said President Obama "has made America a more dangerous environment than frankly I have ever seen, and anybody in this room, has ever watched or seen."
"Decades of progress made in bringing down crime are now being reversed by this Administration's rollback of criminal enforcement," Trump thundered. "Homicides last year increased by 17 percent in America's fifty largest cities. That's the largest increase in 25 years."
The nonpartisan advocacy group Families Against Mandatory Minimums fact-checked Trump's claims and declared that the "jury is still out" on whether crime is trending upward in America.
"Not all the data are in yet, but preliminary data do suggest that violent crime rose in 2015," according to a FAMM fact sheet. "However, crime remains very low compared to its peak in the early 1990s, and it's too early to tell whether this crime rise will continue and turn into a long-term trend."
FAMM was among many groups that parsed Trump's numbers and found them lacking. Richard Berk, a professor of statistics and criminology at the University of Pennsylvania, told The Washington Post, which thoroughly fisked Trump's caims, that they were "a good illustration of how to lie with statistics."
A closer look at crime statistics shows that the increase in violent crime was clustered in a few large cities.
For example, a Brennan Center for Justice analysis of crime in 2015 found that, while the national murder rate rose by 13.2 percent in the 30 largest cities last year, murders in Baltimore, Chicago, and Washington, D.C. accounted for half of the increase. Likewise, aggravated assaults in Los Angeles accounted for more than half of the rise in violent crime in those cities. Meanwhile, crime overall in two-thirds of the cities actually dropped, offsetting the dramatic spikes in others. Crime overall in the 30 largest cities remained flat over the previous year.
Molly Gill, the director of legislative affairs at FAMM, said Trump's speech was "full of fear-mongering in terms of what's happening with crime in the U.S."
"Crime is still low," Gill said. "It's been declining for 30 years, and even though we've seen numbers in 2015 that we should keep an eye on, it's not necessarily a harbinger of doom. We don't know if it's a blip or an upward trend."
Jason Pye, the communications director of FreedomWorks, a libertarian-leaning group that supports criminal justice reform efforts in Congress, agreed. Pye said a one or two-year increase in crime may just be an outlier, noting that murder rates rose in 2005 and 2006, only to continue their three-decade-long downward trend in 2007.
"Certainly, recent events are concerning, and we agree that steps need to be taken to restore peace in our communities," Pye said. "The Republican Party's platform, as approved this at the convention, notes the positive justice reforms implemented by GOP governors. We believe that a step in the right direction toward restoring trust in the justice system is to bring those reforms to federal sentencing and corrections policies. There was nothing in Donald Trump's acceptance speech that indicates any opposition to these changes, and we hope that the Republican nominee and his policy advisers will look at the successes of the states and support the effort in the House and Senate to reform the federal criminal justice system."
Gill also called for sentencing reform. "If [Trump] really cares about police and public safety, we need to focus on sentencing reform," Gill said. "Police and prosecutors support that. They would rather spend their time solving crimes."
Despite Trump's bluster about backing law enforcement, Ronal Serpas, the chairman of Law Enforcement Leaders to Reduce Crime and Incarceration and the former superintendent of the New Orleans Police Department, said Trump's rhetoric will only make policing more difficult.
"What we heard runs counter to what American law enforcement knows to be true: Our country's crime rates are at historic lows," Serpas said in a statement. "Misrepresenting these facts only makes our job harder."
Law Enforcement Leaders to Reduce Crime and Incarceration, which says it represents around 200 police chiefs, sheriffs, and district attorneys, recently sent a letter to both Trump and Hillary Clinton urging the presidential candidates to support sentencing reform efforts.
"As the candidates develop their policy platforms, we hope they will engage with the men and women who have spent decades keeping our country safe," Serpas continued. "We know from our experience the best way to do that: stop wasting resources indiscriminately locking more people behind bars and instead focus on preventing and enforcing violent crime"