Trump Wouldn't Lecture Turkey, Gives Foreign Policy Interview on Eve of Acceptance Speech
Also talks re-evaluating NATO, NAFTA.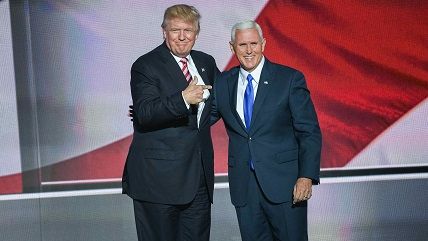 (Richard Ellis/ZUMA Press/Newscom)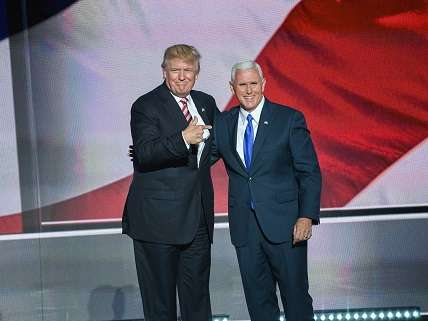 Donald Trump would re-evaluate United States obligations to NATO, re-negotiate NAFTA (saying he would pull out "in a split second" if he didn't get a better deal), and re-think other overseas commitments, he told The New York Times. Trump also challenged the idea that the U.S. should lecture other countries—specifically Turkey as the government of Recep Erdogan cracks down in the aftermath of a failed coup.
"I give great credit to him for being able to turn that around," Trump said. "Some people say that it was staged, you know that. I don't think so." The times admits that while the Obama administration has released statements on Erdogan's crackdown, they have not exerted any actual pressure to stop it.
"When the world sees how bad the United States is and we start talking about civil liberties, I don't think we are a very good messenger," he said.
While he told the times he'd "prefer to be able to continue" arrangements like NATO, there would be a re-evaluation, but possibly not until something comes up. Asked whether the U.S. would come to the aid of the Baltic states if they were attacked by Russia, Trump offered that it would depend on whether they'd "fulfilled their obligation" to the United States. "If they fulfill their obligations to us, the answer is yes."
Trump first started talking about NATO in March, when he called it "obsolete." Even then, he said he didn't mind NATO "per se." There are strong argument to be made that America would be stronger and richer if Europe were to pay for its own defenses, but the time to evaluate the alliance is at the beginning of a term, not when treaty obligations kick in. Trump campaign manager Paul Manafort told CNN Trump had been misquoted.
The Times apparently compared Trump to Richard Nixon, known as a law and order candidate who also had an active foreign plicy, in 1968. "This is not 40 years ago," Trump told The Times. "We are spending a fortune on military in order to lose $800 billion. That doesn't sound very smart to me." According to The Times, Trump maintained a hands off approach on North Korea as well as China's disputes in the South China Sea, suggesting if it were necessary military assets could be deployed from the mainland, which would be "a lot less expensive."
Trump characterized Syrian dictator Bashar Assad a "bad man" who had "done horrible things," but prioritized ISIS as what The Times called "a far greater threat to the United States." Trump also bemoaned "obsolete weapons" in the U.S. stockpile. "We have nuclear that we don't even know if it works."
The Times article came out just a few hours after Republican vice presidential nominee Mike Pence promised delegates Trump would be hewing to the party line on interventionism-as-American-leadership. "America needs to be strong for the world to be safe," Pence said, "and on the world stage Donald Trump will lead from strength."
Previously: The Republicans' foreign policy platform plank.