Roger Ailes Booted From Fox on Trump's Coronation Day
Conservatism's nervous breakdown continues apace as yet another kingmaker is revealed to be powerless.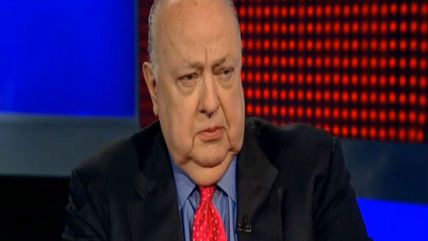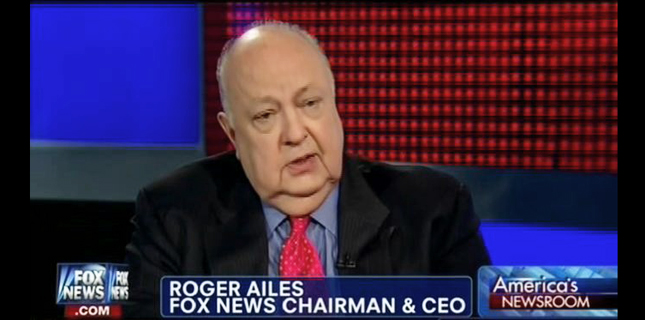 Roger Stone, wearing perhaps the worst or best sports coat in the history of mankind, spied me at the Republican National Convention's Media Row this morning, gave me a sad shake of the head, and said "Looks like our friend Ailes is not gonna survive."
On a morning when the political world was obsessing over the bravery or duplicity of last night's Ted Cruz speech, with Trump surrogates such as Stone and Florida Gov. Rick Scott fanning out over every available broadcast booth to dutifully trash the Texas senator, the old dirty trickster was anxious about the immediate fate of his fellow Nixon White House alum. And he was right to be: This afternoon, as mentioned in the P.M. Links, 21st Century Fox announced that Fox News founding CEO Roger Ailes had resigned "effective immediately." Just two weeks after former anchor Gretchen Carlson filed a sexual harassment lawsuit against the 76-year-old Ailes, prompting other women to come forward and triggering an internal corporate investigation that reportedly turned up at least some wrongdoing, the single most influential figure in modern cable news has been hastily shown the door.
Terms of the settlement were not announced, though numbers have been floated in the tens of millions. Ailes will stay on in a consulting role, though not in the same office building on Avenue of the Americas. Rupert Murdoch, at age 85, will take over as active chairman and CEO of a company that had been stubbornly unable to come up with a plausible succession plan. The company statement was filled with Murdoch-family praise for Ailes, no mention of the harassment investigations, and no statement from Ailes himself.
It's a remarkable and symbolic turn of events for media, conservatism, and the fuzzed out space between politics and television. Donald Trump during his largely hostile takeover of the Republican Party campaigned in part against Fox News, particularly its rising-star anchor Megyn Kelly. This despite the fact that, as Roger Stone reminded me this morning, Ailes and Trump are "old friends." Trump has been a divisive character in the building, on air and off, with hosts such as Sean Hannity and Lou Dobbs reveling in his rise, and others such as Greg Gutfeld and Kennedy taking a more skeptical approach. The fact that Kelly's leaked accusation against Ailes in the internal Fox investigation seems to have sealed his fate lends a Greek-tragedy vibe to the whole proceedings.
It's way premature to predict what this all means, for conservatism, for media, or Fox. But here are some tentative observations:
1) There are no kingmakers left in Republican politics. Not Roger Ailes, not Rupert Murdoch (who was initially against Trump), not the Koch brothers, not Bill Kristol, not Sheldon Adelson, not nobody. There is no ring you absolutely positively must kiss; no power broker with enough influence to wave a magic wand and have his hand-picked candidate ascend to the throne. As a pure process question, that has to be healthy. On the basis of this year's results, well, maybe not so much.
2) There will continue to be growing space for an even more populist conservative broadcast alternative. Like the rest of the conservative coalition, the Fox family has reacted to Trumpism with a mixture of delight and revulsion. It's hard to imagine FNC and Fox Business Network getting more populist in the wake of Ailes' ouster and after the ensuing corporate modernization. If Trump loses in November, he'd be in a terrific position to take his followers to some new media entity with maybe a few peeled-off Fox patriots who will feel less protected in an Ailesless world.
3) Here's hoping Murdoch and the eventual Ailes replacement will come out of this by going more libertarian. I'm more than a bit biased here (and my opinions here are my own, and not of my friends in the building), but the fun energy at Fox belongs to people like Gutfeld, the kids at Red Eye, Kennedy, Kat Timpf, and so on. Back when I was privy to the daily internal ratings, it was astonishing how much the libertarian and libertarian-friendly shows had much more of their audience share composed of people in the targeted 25-to-54 demographic, as opposed to people around the age of, well, Roger Ailes.
I've never met the man, and didn't spend any effort gathering intelligence, but my faraway impression is that certain types of libertarians just smelled wrong to him, even though he was looking at the same numbers as I was, and was certainly more anxious about building such a big business on an audience whose average age is rapidly approaching death.
As in the Republican Party writ large, the young'uns in the audience skew heavily libertarian, and the ones working over in that building have created a fun if still-too-small space for the kind of free-wheeling conversation and real talk that are still rare outside of the website you are reading. There are more than a few senior cable news executives—and not only at Fox, I can tell you—who understand that libertarian-flavored talent and programming is one key to growing younger audiences and injecting more vitality into broadcasting. Here's hoping the creative space over in that building keeps growing.
4) The universe of rumored corporate letches will continue to shrink. For the record, I have never heard anyone volunteer a creepy story about Roger Ailes. However, those rumors are fairly extensive in the broader conservative world.
Yesterday on Sirius XM Insight's StandUp! With Pete Dominick, I talked about the Fox kerfuffle for about a half hour with former Bush speechwriter David Frum, who said he was "not even slightly surprised" by the charges against Ailes. (Frum also said that "Fox has a very particular sexual politics," akin to that of an Italian TV game show, with ugly men surrounded by adoring beauties.) I think Frum's assessment is too harsh, but he had some other insightful comments (such as that the Bush White House considered Fox to be "so extraordinarily useful"), and you can listen to six-plus minutes of the segment here.
The Ailes behavior described by the women who have come forward is Mad Men-type boorishness, some of it even dating back to around that period. Without passing judgment on the accuracy of the accusations, it's a good thing that male bosses no longer behave that way as much, and have a considerably harder time getting away with it.
The coming days and weeks will tell us much about whether there's fire behind the smoke, but as Donald Trump readies for whatever he throws our way tonight, it's kind of amazing to think about: Official conservatism in July 2016 is in some ways unrecognizable compared to what it was as recently as November 2014, when Republicans made historic gains all over the country. Trump has taken a wrecking ball to the institutions of conservatism, revealing along the way that maybe the foundations weren't so hot to begin with.