A.M. Links: Cruz Refuses to Endorse Trump at RNC, Trump Speaks at RNC Tonight, Turkey Declares State of Emergency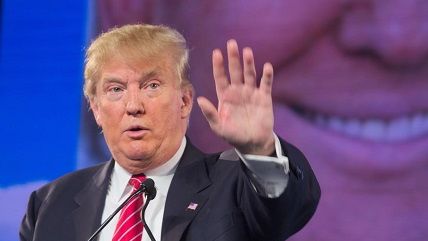 Todd Kranin

Donald Trump will speak tonight at the Republican National Convention.

Ted Cruz refused to endorse Donald Trump in his RNC speech last night.
"Roger Ailes, the former GOP political operative who oversaw the creation of the Fox News Channel and turned it into the leading voice of American conservatism, is in final negotiations to leave as chief executive of the network amid a budding sexual harassment scandal, according to a person with knowledge of the negotiations."
Turkish President Recep Tayyip Erdogan has declared a three-month state of emergency.
Russia has lost its appeal of the Olympic ban on Russian track and field athletes. Those Russian athletes were barred from participating in the upcoming summer games in Rio de Janeiro due to allegations of state-sponsored doping.
"Police in South Florida shot an unarmed black caretaker Monday as he tried to help his autistic patient."
Follow us on Facebook and Twitter, and don't forget to sign up for Reason's daily updates for more content.