U.S. Airstrike in Syria Reportedly Kills At Least 60 Civilians
Americans turn to social media to express regret since they're not actually going to vote for anyone who would curb U.S. intervention.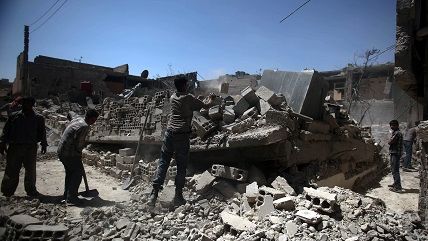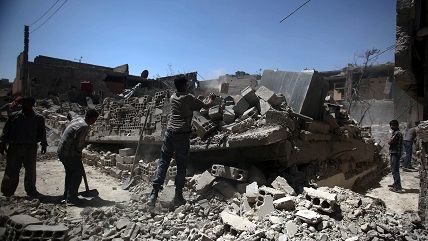 (MOHAMMED BADRA/EPA/Newscom)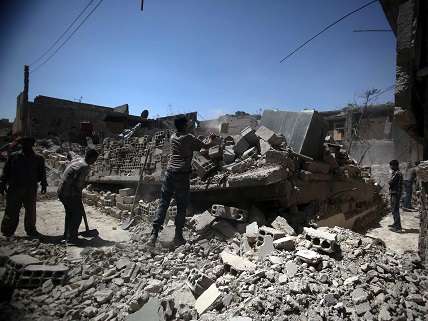 A U.S. air strike killed at least 60 civilians in Syria after they were mistaken for ISIS fighters, according to The Telegraph, which reports eight families were targeted while trying to flee a village in Northern Syria.
The deadly air strike is indicative of some of the bigger problems the U.S. and coalition forces face in their campaign against ISIS. Absent a significant amount of boots on the ground, the coalition relies heavily on airstrikes, which tend to have more civilian casualties than ground fighting.
Although Syria was certainly mentioned at the Republican convention—including to blame Hillary Clinton for the chaos—proposals about foreign policy toward Syria were light. According to Republicans, Hillary Clinton, more or less, did not do enough, even as she's blamed for interventions in places like Libya, which led to a terrorist presence, including of ISIS, that did not exist before the civil war. Democrats don't offer much more. Clinton has rejected the idea that her support of interventionism is in part responsible for the crisis in Libya, and has in general shown little indication of offering any kind of foreign policy that might be influenced by reflections on past errors.
American voters have not punished either side. Candidates who preached caution in the Republican party did not fare well in the polls, while Democrats hardly offered any alternatives to Clinton's interventionism (her primary primary opponent, Bernie Sanders, largely focused on economic issues).
It's not stopping Americans for getting self-righteous on social media over the airstrike in Syria. A #PrayforSyria hashtag on Twitter is full of users congratulating themselves for being aware of the attack, and lambasting the media for not covering it even while they share links about the incident from the media, through whom they found out about it in the first place.
The hashtagging of the airstrike in Syira is illustrative of the problem with the way the American electorate engages with foreign policy, if it engages at all. One of the main arguments supporters of Hillary Clinton advance in favor of their candidate is that she has the experience. Yet, when it comes to foreign policy, her experience largely consists of mistakes rooted in her faith in the power of interventionism, from Iraq to Libya. She was a supporter of more intervention in Syria, and pushed, as Trump did, for more airstrikes on ISIS after the Orlando shooting, perpetrated by a gunman who pledged allegiance to ISIS but spent no time in Iraq or Syria. American voters ended with these two choices from the mainstream because not enough of them gave a shit about it, morally preening hashtags notwithstanding.
Fortunately for those Americans concerned with the wages of U.S. foreign policy, third party options like Libertarian Gary Johnson, a self-described skeptic of interventionism, and the Green party's Jill Stein, are available, so it is possible to make a choice that reflects an interest in reducing U.S. violence overseas. The most diehard Clinton supporters argue voting for Jill Stein, who argues Hillary Clinton could be worse than Donald Trump, is too dangerous because she could "help" Trump win. A clip of Dan Savage shitting on the Green party for helping Republicans is making the rounds in this election cycle. He posits that the Greens, like most third parties, only show up for presidential elections, an attractive if untrue sentiment. While Democrats paint Donald Trump as some kind of particularly vile and unacceptable Republican candidate, they've made the same arguments about previous candidates. Savage dismissed the Greens as idealism. But what's happening is Democratic voters are privileging getting their favored domestic policies in place over doing anything, like supporting authentic anti-interventionists, that could begin the process of curbing the excesses of U.S. foreign policy by punishing Democrats for being as interventionist as mainstream Republicans. That's a political decision and a significant one. No amount of self-righteous hashtagging erases that.