Twitter Bans Milo Yiannopoulos, Initiates Major Internet Free Speech War
#FreeMilo just became a thing. Thanks, Twitter.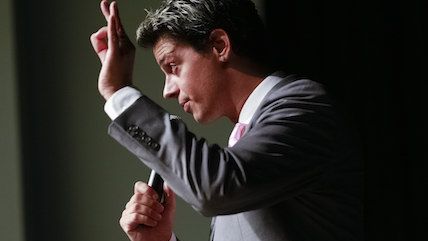 (Nelvin C. Cepeda/ZUMA Press/Newscom)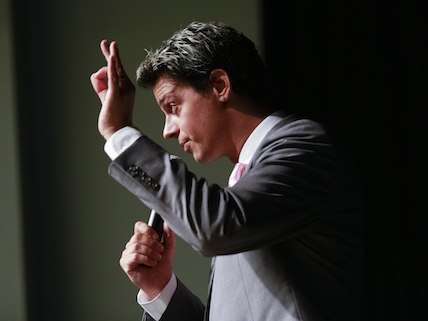 Milo Yiannopoulos, the Breitbart tech editor and Trump-loving alt-right superstar, has been permanently banned from Twitter following accusations that he directed his followers to send abusive comments toward actress Leslie Jones. But while Yiannopoulos certainly straddles the line between being a free speech provocateur and merely a serial violator of Twitter's terms of service, these sanctions are likely to increase the perception that Twitter is no place for conservative voices.
Yiannopoulos's brawl with Jones stems from her role in the new Ghostbusters movie, which features an all-female cast. The movie has taken on a culture war context: opponents of the film think its characters were made female in order to appease the dictates of political correctness. Yiannopoulos gave the movie a negative review, and soon thereafter got into a public Twitter fight with Jones.
It's not clear whether Yiannopoulos actually told his followers to direct abusive tweets at Jones—he emphatically denies doing so. But Jones began receiving truly despicable tweets and images from Yiannopoulos's crowd, which prompted her to quit Twitter and even captured the attention of Twitter CEO Jack Dorsey, who reached out to Jones and asked her to follow him so that they could communicate privately.
The end result was this: Yiannopoulos is permanently banned from Twitter.
"We know many people believe we have not done enough to curb this type of behavior on Twitter," said the company in a statement. "We agree."
The decision came just minutes before Yiannopoulos was slated to give a speech at "Wake Up," a pro-Trump, pro-gay afterparty at the Republican National Convention in Cleveland. The event was hosted by gay conservatives who believe the left is more anti-gay than the right, and that only Trump can confront the real threat to American gays, which isn't rightwing social policies: it's radical Islam.
I attended the event and witnessed Yiannopoulos's speech (he was preceded by anti-Muslim activist Pamela Geller). He hit on many of the same themes he discussed yesterday at a rally near the convention–particularly, the need for gays to join the GOP.
In an interview with Reason, Yiannopoulos insisted that Twitter would rue the day it retaliated against him. "I'm doing lots of interviews tomorrow," he said.
He may well be right. The hashtag "Free Milo" began trending on Twitter within hours of his ban.
As I've pointed out many times, Twitter is a private company. It can set its own speech policies, and those policies don't have to be fair. There's no universal human right to own a Twitter account.
But if Twitter wants to live up to its stated commitment to maintaining a public forum where provocative, controversial, and even occasionally rude or hurtful speech is tolerated, then it should consider restoring Yiannopoulos's profile. Giving his friends and followers a reason to reward his antics with even more attention seems like a worse result than simply letting him tweet his offensive remarks.
Related: Twitter targets trolls but winds up silencing conservatives