Obama Calls for 'Restraint' in Turkey, Support for Democratically-Elected Government
John Kerry recommends U.S. citizens in Turkey "shelter in place."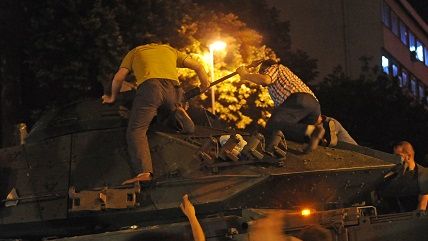 (Depo Photos/ZUMA Press/Newscom)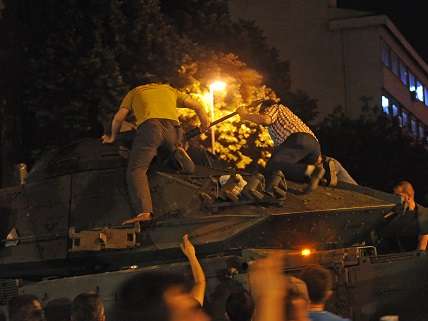 President Obama did not make a public statement about the coup in progress in Turkey, but the White House did release a readout of a phone call with Secretary of State John Kerry, according to which the two "agreed that all parties in Turkey should support the democratically-elected Government of Turkey, show restraint, and avoid any violence or bloodshed."
Kerry also released a statement:
The United States views with gravest concern events unfolding in Turkey. We are monitoring a very fluid situation.

I spoke this evening to Foreign Minister Cavusoglu and emphasized the United States' absolute support for Turkey's democratically-elected, civilian government and democratic institutions.

We urge all parties to ensure the safety and well-being of diplomatic missions and personnel and civilians throughout Turkey.

Our Embassy and Consulates in Turkey continue to provide updates to U.S. citizens in Turkey. U.S. citizens should shelter in place and stay indoors; and update family and friends of status when possible.
The European Union's foreign policy representative, Federica Mogherini, meanwhile, called for "restraint and respect for democratic institutions".
Officials from the Turkish military reportedly insist they have taken control of the country while President Recep Erdogan, who has spent much of his time in power limiting the right to protest, called on citizens to demonstrate against the coup, with pro-government demonstrations breaking out overnight despite reports of a military-imposed curfew.