A.M. Links: Clinton and Trump Tied in New Poll, RNC Speakers List Released, Zika Virus 'Threatens Much of the Western Hemisphere'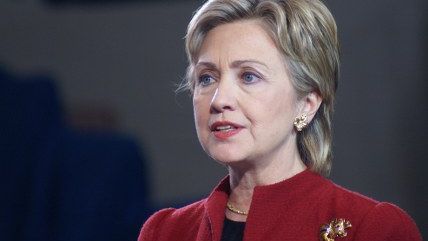 State Department

New poll: Hillary Clinton 40 percent, Donald Trump 40 percent. In a three-way race, it's Hillary Clinton 36 percent, Donald Trump 36 percent, Gary Johnson 12 percent.

Here's the list of speakers for the upcoming Republican National Convention.
"With the Republican National Convention coming next week, attention has focused on the Convention Committee on Rules, which began meeting last night. This committee sets the rules that govern how the convention will proceed, and its decision will affect the crucial question heading into Cleveland: Could the convention rules be altered in a way that could threaten the nomination of Donald Trump?"
Donald Trump is expected to announce his vice presidential pick on Friday.
Boris Johnson will be Britain's new foreign secretary.
"Top health officials warned Wednesday that the Zika virus threatens much of the Western Hemisphere, with Florida, Puerto Rico and Brazil in the crosshairs."
Follow us on Facebook and Twitter, and don't forget to sign up for Reason's daily updates for more content.