Will the Dallas Shootings Make Passing Criminal Justice Reform More Difficult?
This year was supposed to be the best chance for Congress to pass criminal justice reform-but a heavy lift probably just got a little heavier.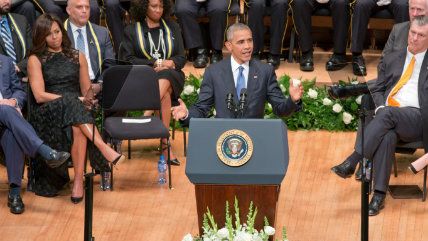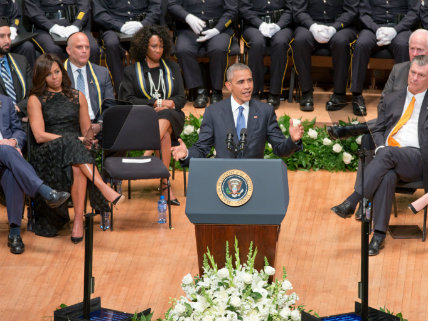 Leaders of several large law enforcement organizations are calling on Hillary Clinton and Donald Trump to support efforts to overhaul sentencing laws in a letter released Wednesday. 
But following the shootings of a dozen police officers in Dallas week, the prospects of any action in Congress have likely only grown dimmer. The Obama administration and a fragile bipartisan coalition of advocacy groups are now scrambling to maintain what little momentum remained for criminal justice reforms this year.
"As the presumptive nominees for President of the United States, we hope that you will take into consideration the perspective of law enforcement as you set your policies," says a letter sent by the group Law Enforcement Leaders to Reduce Crime and Incarceration addressed to both major party presidential candidates. "We believe there is an urgent need for the next Administration to help promote the public safety of this country, reduce recidivism, and reform sentencing policies."
"Though this may seem counterintuitive, we know from our experience as law enforcement officials that over-relying on incarceration does not deter crime," the letter continues. "As prison budgets have continued to rise, funding for state and local law enforcement has been slashed, negatively impacting innovative work in the field including diversion programs, updating information-sharing systems, and smart policing tactics. With finite prison space, we believe prison should be used for the most dangerous offenders."
The letter was also signed by the presidents of the Association of Prosecuting Attorneys, National District Attorneys Association, the Police Foundation, and the Major Cities Chiefs Association, which have a combined membership of more than 30,000 current and former law enforcement officers and prosecutors, according to the letter.
Ronal Serpas, the chairman of Law Enforcement Leaders to Reduce Crime and Incarceration and former superintendent of the New Orleans Police Department, said in an interview that the federal system is badly lagging behind the states.
"When you think about the question from a federal prospective, there's been 27 states that have already moved with reasonable, rational reforms," Serpas said. "And as a result, the federal government is trailing half the states in reforms to improve public safety."
But any change at the federal level has to move through Congress, and many longtime Washington watchers were already skeptical of the odds of that happening.
"I think if we're being honest, sentencing legislation was undoubtedly not going to happen in this Congress, but I do think it makes the political equation harder," said Laurie Robinson, co-chair of the White House Task Force on 21st Century Policing and a former Justice Department official.
On Tuesday, President Obama spoke at a memorial for the five Dallas police officers killed last week. "I'm here to insist we are not as divided as we seem," Obama said. The issue has been a focus for the White House throughout the week. President Obama met with leaders from eight law enforcement groups Monday, and he met with a broader group of officials and community leaders today.
But after months of what looked like an increasing bipartisan consensus on criminal justice and policing reforms, advocates are worried that both sides may retreat back to their partisan camps.
"I'm so scared that this debate is going to turn into World War I, with Blue Lives Matter in one trench and Black Lives Matter in the other," Adam Brandon, the president of FreedomWorks, a libertarian-leaning advocacy group that often works with Republican legislators and supports sentencing reform. "If you could rally around a piece of bipartisan legislation, that's going to help police get back to being police and at the same time be a great signal not only to Black Lives Matter but other minority groups that feel like they have a target on their back."
A highly anticipated criminal justice bill has languished in the Senate since the beginning of the year, despite key compromises in April that eliminated some reductions in mandatory minimum sentences for firearm crimes and added new mandatory minimums for fentanyl offenses and insterstate domestic abuse. The changes did little to win over Republicans such as Sen. Tom Cotton who style themselves as "tough on crime," however, and who continue to oppose the bill. Republican Senate majority leader Mitch McConnell is waiting for the House to vote on a package of criminal justice reforms before bringing it to the floor in the Senate, according to advocacy groups tracking the bill.
The revised Sentencing Reform and Corrections Act would expand so-called "safety valve" provisions that give judges discretion to impose lesser sentences than federal mandatory minimum guidelines, and it would eliminate mandatory life sentences for three-time, nonviolent drug offenders. It would also make sentencing reductions for crack cocaine offenses—passed by Congress in 2010—apply retroactively, allowing some 5,800 federal prisoners to apply for reduced sentences.
In the House, Speaker Paul Ryan promised earlier this year to give the reform package passed out of the House Judiciary Committee, which includes many similar provisions to the Senate legislation, a floor vote. "It's not lost on anyone that Speaker Ryan personally believes that we should have criminal justice reform," a Republican aide said in an interview.
Ryan's 2014 anti-poverty plan included an entire chapter on mass incarceration and its effects on poverty, but his most recent version of the plan, released in June, makes no mention of sentencing reform. The aide said one reason the plan didn't include sentencing reform was that it was already underway in the House. "I think a lot of people viewed criminal justice as something we could move on this year," the aide said.
But the House Judiciary Committee is still considering several bills to include in the package, according to the GOP aide. Congress will leave town for an extended summer recess on Friday, and when it returns in September, election season switches into high gear, all of which bodes ill for any pending legislation.
"Now we're being told 'definitely in September,' so there's a lot of skepticism," said Michael Collins, the deputy director of national affairs for the Drug Policy Alliance, which has been closely following the bills. "I find it hard to believe they'd put this on the floor before the elections. Our only hope now is for the House to move and put pressure on McConnell, but it's a long shot at this stage in the game."
Democrats in Congress are demanding action on gun control—a non-starter for Republicans—further complicating any possible bipartisan push to cajole leadership into action.
Meanwhile, Collins said that Trump's influence may be causing some on-the-fence Republicans to pull back their support for sentencing reform. One of Trump's biggest allies in the Senate, Republican Sen. Jeff Sessions, is also one of the biggest opponents of sentencing reform, and Sen. Ted Cruz, an original co-sponsor of the Senate legislation, became an opponent of it, coincidently around the time he was competing against Trump in the Republican primary.
Trump, has declared himself the "law and order" candidate, insisting that crime is out of control, despite a mountain of contrary evidence showing that violent crime in the U.S. is at its lowest point in recent history, even taking into account recent upticks in some major cities over the last year.
With Trump's candidacy muting GOP support for sentencing reform legislation, advocates are now looking forward to a Clinton landslide in November, on the notion that it might push Republicans to disavow Trump.
"The hope," Collins said, "is that, if and when he gets beaten, Republicans will try and distinguish themselves from Trump, and this would be a good way to do it."