Paul Ryan Says Presidential Election a 'Binary Choice,' Gary Johnson Gets on Maine Ballot, U.S. Stocks See Historic Rise After Brexit: A.M. Links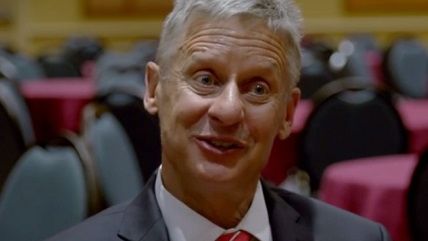 Reason TV

At a CNN town hall, House Speaker Paul Ryan said that while presumptive Republican presidential nominee Donald Trump wasn't perfect, he was better than presumptive Democratic presidential nominee Hillary Clinton, calling it a "binary choice." The Libertarian Party of Maine says it has enough signatures to get Libertarian presidential nominee Gary Johnson on the ballot in November, bringing him closer to 50 states. Like Johnson, presumptive Green presidential nominee Jill Stein is also trying to woo Bernie Sanders voters after the democratic socialist's endorsement of Clinton. Supreme Court Justice Ruth Bader Ginsburg, meanwhile, doubled down on her criticisms of Trump, calling him a "fake." Trump took to Twitter to suggest Ginsburg's "mind is shot" and called on her to resign. Attorney General Loretta Lynch defended the FBI investigation into Clinton's email abuses, which produced no indictment, in front of a House panel.

Stocks in the United States have gained nearly $2 trillion in share price since the Brexit vote on June 27, which saw a short-term sell off.
The president of Venezuela put the armed forces in charge of the new food supply system.
China says it rejects an international court ruling against it in a case brought by the Philippines over the South China Sea.
A ceasefire in South Sudan is largely holding, according to the United Nations.
The American League defeated the National League 4-2 at the All-Star Game in San Diego.