5 Cops Killed in Dallas, Senate Passes GMO-Labeling Mandate, Digital Data Can Be Stored in DNA: A.M. Links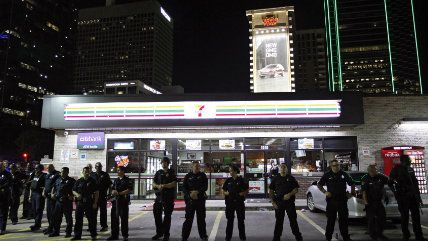 (RALPH LAUER/EPA/Newscom )
https://www.technologyreview.com/s/601851/microsoft-reports-a-big-leap-forward-for-dna-data-storage/

A sniper opened fire during a police-brutality protest last night in Dallas, killing five police officers and wounding six others before he was killed in a standoff with police. Dallas police say the shooter was not affiliated with protesters. President Obama called the shootings "a vicious, calculated, and despicable attack on law enforcement."

Originally, police suspected a man named Mark Hughes, the brother of the rally's organizer, of being the shooter because he had been walking around with a (legally permitted) rifle. 
American spending on prisons has outpaced spending on education by threefold since the 1980s. 
The Senate voted Thursday to require food labels to state whether a product contains genetically modified ingredients. It's expected to pass the House of Representatives as well. 
Oakland police made 282 arrests for "sex trafficking," with 70 percent of these arrests women who were selling sex. 
"Treat rape like any other crime," writes Megan McArdle. "In the long run, the 'I believe women' standard is not only bad for people who are accused (most of whom are men), but also bad for rape victims (most of whom are women)." 
Most of us just know not to look at porn while at work, but the government had to pass a law to deal with what one lawmaker called the "pervasive problem" of federal employees watching porn on government computers. 
Trans men—i.e., people born biologically female who identify as male—can now join one of the nation's oldest fraternities, Chi Phi. 
DNA is the new external hard drive.
Follow us on Facebook and Twitter, and don't forget to sign up for Reason's daily updates for more content.