Trump Meets with Congressional Republicans, Hilarity Ensues
Big fan of Article XII of the Constitution, threatens to start publicly attacking Republican Sen. Jeff Flake.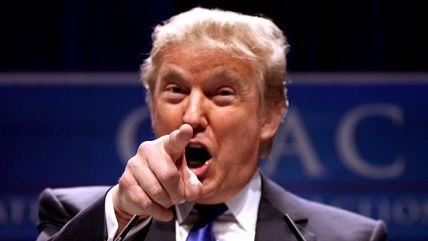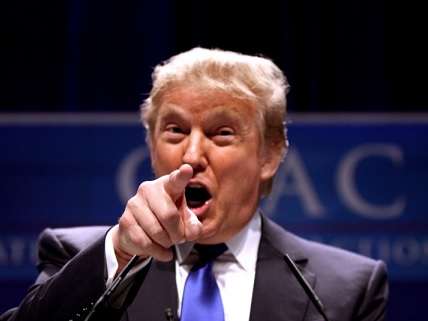 Donald Trump met with House and Senate Republicans today, some of whom have yet to endorse the presumptive Republican presidential nominee, and it does not sound like it went well, based on what sources told the Washington Post about the closed-door sessions.
Trump, according to the Post, targeted two of the senators who have been vocal about their refusal to endorse him so far, Arizona Sen. Jeff Flake and Illinois Sen. Mark Kirk, who actually endorsed Trump before withdrawing the endorsement and did not attend the meeting. According to the Post, Trump called Kirk a "loser" and predicted he would carry Illinois, which has not voted for a Republican for president since George H.W. Bush in 1988.
Flake reportedly asked Trump about his controversial comments, insisting he wasn't part of the "Never Trump" movement and saying he wanted to endorse Trump but was uncomfortable doing so. According to the Post, Trump told Flake he hadn't attacked him yet but may start to do so and predicted Flake would lose his election. Flake, according to the Post, had to point out he's not on the ballot this year.
Trump also engaged with Nebraska Sen. Ben Sasse, a prominent opponent of Trump's nomination. A spokesperson for Sasse told the Post they "had a gracious exchange" but that Sasse still believes "this election remains a dumpster fire."
On the House side, South Carolina Rep. Mark Sanford described Trump's comments to House Republicans as "the normal stream of consciousness that's long on hyperbole and short on facts" to the Washington Post, telling their reporter that "at one point, somebody asked about Article I powers: What will you do to protect them? I think his response was, 'I want to protect Article I, Article II, Article XII,' going down the list. There is no Article XII."
Virginia Rep. Morgan Griffith appeared to confirm the flub to the Post. "When he made the comment about the Constitution, I love this Article and that Article, I assumed he was talking about the Amendments, because he was off on the numbers," Griffith told the Post.
Trump spent a portion of his time with House Republicans explaining his Saddam Hussein comments—the Iraqi dictator was very good at killing terrorists but a very bad guy otherwise, according to Trump, who blamed the media for allegedly misconstruing his comments.
Some Republicans remain optimistic. "If you look at the trajectory of his unforced errors, he's getting better," Texas Rep. Bill Flores told the Post. "I mean, he's not where we want him to be, but he's getting better."
At ElectionBettingOdds.com, Donald Trump has a 23 percent chance of winning the presidency. Trump is about 5 points behind Hillary Clinton in the average of two-way polls and three-way polls which include Libertarian nominee Gary Johnson.