Trump Says Sanders Lost 'FBI Primary', Cruz Negotiating RNC Speaking Slot, Obama Keeping 8,400 Troops in Afghanistan Through 2016: P.M. Links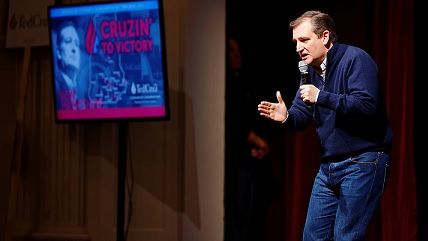 Michael Vadon/flickr

Donald Trump said Bernie Sanders had lost the "FBI primary" to Hillary Clinton, who the FBI decided not to indict over her misuse of a personal e-mail server. Libertarian presidential nominee Gary Johnson has said he believed there was not "criminal intent" on Clinton's part.

Tennessee Sen. Bob Corker says he's taken himself out of consideration to be Trump's running mate. Texas Sen. Ted Cruz, a former presidential hopeful, is apparently negotiating a speaking slot at the Republican National Convention. Trump is expected to announce a list of speakers tomorrow.
President Obama will keep at least 8,400 U.S. troops in Afghanistan through the end of his term in 2017.
A multi-year probe into the role of the United Kingdom in the Iraq war ended with a report that found the war was not justified.
Whistleblower Chelsea Manning was hospitalized after reportedly trying to kill herself.
A Spanish court handed Leonel Messi a suspended sentence of 21 months and fined him 2 million euros for lowering his tax burden through the use of corporate structures, saying he had not proven that he was unaware of the methods used by his father.
Some sex workers in Rio de Janeiro are reportedly cutting prices ahead of the Summer Olympics after business fell during the 2014 World Cup which was also hosted in Brazil.
McDonald's will start offering the McGriddle as part of its all-day breakfast menu starting next month.