Congress Wants To Force Pentagon To Buy Ships Against Its Will
Rather than cut defense spending, lawmakers seek armaments the Defense Department does not need.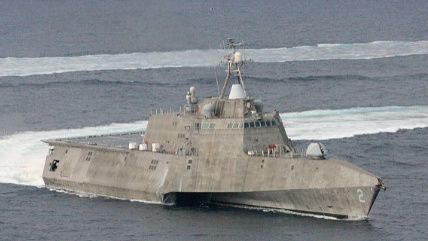 (Lt. Jan Shultis / United States Navy)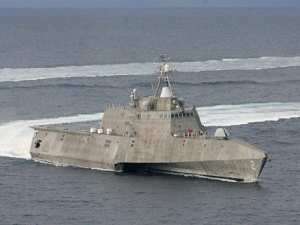 (Editor's Note: An earlier version of this post did not fully credit the original article written by Lauren Chadwick and R. Jeffrey Smith of the Center for Public Integrity for Politico. The piece has been revised and we regret the error.)
Since its commission in November 2008, the Littoral Combat Ship has received a mixed reception. The Navy, select lawmakers, and the ship's producers—Austal USA and Lockheed Martin—have thrown support behind the ship, while the Pentagon has been more than critical toward produced models.
Voyages marred by "cracked hulls," technical failures, and rusting are only a selection of the ship's issues, according to Lauren Chadwick and R. Jeffrey Smith of the Center for Public Integrity. Experts think it wouldn't fare well if attacked.
But, as Chadwick and Smith note in Politico, lawmakers want to build more of these ships, even though the Obama administration wants nothing to do with them:
A defense appropriations bill moving toward Senate approval in coming days or weeks directs that $475 million be spent by the Navy to procure an extra Littoral Combat Ship next year. The House of Representatives has already passed legislation ordering that $384 million be spent on the extra ship. So it's virtually certain to happen, a prospect that cheers the Navy greatly but has evoked dismay among the ships' many critics.

The extra spending is a direct repudiation of the secretary of defense, putting the Navy back on track with its original three-ship production schedule for 2017—and pushing the decision about the fate and total size of the LCS fleet off to the next president.

The Obama administration "strongly objects" to buying the extra ship, the White House said in a budget message to Congress on June 14. It said just two are needed now to preserve a competition that "ensures the best price for the taxpayer on the remaining ships" and that spending more would needlessly drain funds from other military priorities, including undersea, surface and aviation programs. Carter made clear at the time he cut back the program that there's no love lost between his office and the Navy's command, which he accused in a blunt letter of ignoring technical risks, neglecting warfighting needs and prioritizing warship "quantity over lethality."
The Pentagon could also be forced to buy an amphibious warship, four C-40 aircrafts, and a powerful new Coast Guard ship, Chadwick and Smith note. None of these vessels were requested by the Defense Department.
So why do lawmakers want them so badly? To satisfy their crony capitalist benefactors, of course:
The shipyards in question—Austal USA, in Mobile, Alabama, and Lockheed Martin's Marinette Marine in Marinette, Wisconsin—reinforced this message with hundreds of thousands of dollars' worth of lobbying from January to March 2016, according to reports they filed with the House and Senate clerks. Lockheed said it spent $3.65 million to lobby Congress on all issues between January and March, with an unspecified portion related to shipbuilding. Austal USA spent $189,096 lobbying just on the shipbuilding provisions in House and Senate defense appropriations bills.
Spending on fancy new warships should probably correspond to an actual public need for said warships.