Military Transgender Ban Ending, Indiana Abortion Restriction Blocked, Possible House Gun Bill Coming: P.M. Links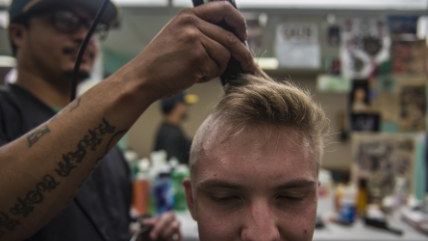 (Sgt. 1st Class Brian Hamilton/UPI/Newscom)
Sgt. 1st Class Brian Hamilton/UPI/Newscom

The Department of Defense officially announced today it was ending its blanket ban on transgender people serving openly in the military.

Iowa's Supreme Court ruled that ex-offenders convicted of felonies in that state can be permanently stripped of their right to vote.
Fears of an active shooter situation at Joint Base Andrews in Maryland turned out to be somebody being fooled by an active shooter drill.
Japan's Supreme Court has upheld the mass surveillance of Muslims living in the country.
A federal judge has blocked a law in Indiana that forbid women from seeking abortions on the basis of a fetus's genetic abnormalities.
Republicans may allow a House vote on a bill to try to keep suspected terrorists from buying guns, but it will likely offer much more due process than what Democrats want.
Follow us on Facebook and Twitter, and don't forget to sign up for Reason's daily updates for more content.