Savannah Schools: You Shouldn't Have to Major in Education to Be a Teacher
The system is pushing an alternative pathway in order to fill vacancies.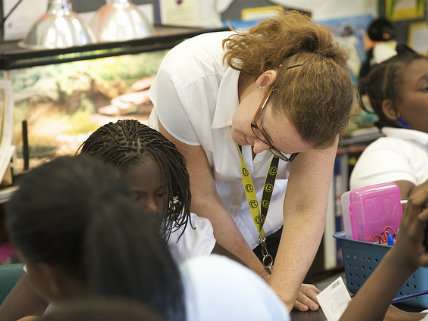 School districts nationwide are facing a problem: While student enrollment is increasing, fewer teachers are available to address the need. As a result of a negative perception of teaching and relatively low salaries, fewer college students are becoming teachers, and current teachers are leaving the profession for similar reasons.
The Savannah-Chatham County Public School System in Georgia is no exception to this. The state's 10th largest school district announced in March that it had 450 job openings it needed to fill before the next school year begins, and it is struggling to find applicants with education degrees.
As a result, the district is focusing on publicizing the existence of alternative pathways, including the Georgia Teacher Academy for Preparation and Pedagogy. In order to complete the program, applicants must have at least a bachelor's degree with a minimum overall GPA of 2.5, passing scores on two separate educator exams, and a satisfactory criminal background check.
It can take up to three years to fully complete the program—but, importantly, it allows one to work as a teacher throughout the process.
This initiative has existed since 2000, but Heather Bilton, the school system's talent acquisition coordinator, said the district needed to be more proactive in getting these programs advertised. "Our goal is to get the best teachers," Bilton says. "But with the traditional pipeline declining significantly over recent years, we had to make sure to publicize all pathways."
The Savannah-Chatham County Public School System consists mainly of Title I institutions. In recent years, its schools have struggled to keep up with changing academic standards and performance expectations from the state Department of Education, leaving little room for any significant reform efforts. Amid these challenges, Bilton says alternative pathway teachers can actually help improve students' performance.
"They bring real life connections," Bilton said. "For example, if I am a retired military person, I can use my past experiences in working on planes to bring math to life and better help kids. It makes them more engaged in the classroom."
Ernie Lee is one of those teachers who came in through an alternative pathway. Before becoming a history teacher at Windsor High School, Lee was a lawyer for more than 20 years, an experience he said is an advantage in his new career.
"I had a lot of life experience that helped me become a better teacher," Lee says. "I did learn some of this through alternative teaching prep, but a lot of my success is thanks to my lawyer experience communicating with people."
Lee said several events in 2007 led him to want to make a "lasting contribution on the community," and he began to reconsider his high school dream of becoming a teacher. "I first started as a substitute in 2008, and realized I could really connect with students," Lee said. "My rigor is tough, but I also take out time to know my students. By talking to them and making sure they aren't invisible, it helps them. I have to do everything in my power to help them graduate, including treating them with respect."
Lee's time as an educator has been lauded. He was named the 2016 Georgia Teacher of the Year for his dedication not just to history, but also to his students. In fact, three out of the last six Georgia Teachers of the Year have gone through alternative routes to becoming certified.
Not everyone is thrilled about the system allowing those without an education degree to teach. Bilton said there have been concerns over a possible decline of educator preparedness, but notes that the school district is not changing its requirements to fill the positions. Not only do assessments eliminate weaker candidates, but schools also provide mentors to those starting their second career. 
"Rigor is not being lowered," Bilton said. "What is increasing is the job pool of teacher applicants so schools can pick the best people for the job. Four hundred and fifty vacancies is the normal amount we have, and just as many already certified teachers will apply for [them] as those who are trying to become certified."
The former lawyer, Lee, understands some of the concerns with alternative teaching programs, but believes the benefits of bringing people into the profession later are worth it. "Traditional teachers may know typical teaching philosophy, but there is something about real world experience that can make better teachers," he says.