Hillary Clinton Wanted to Keep Up Appearances Regarding Private Email Server as Early as 2009
Newly revealed emails indicate the former secretary of state was concerned about more than just "convenience."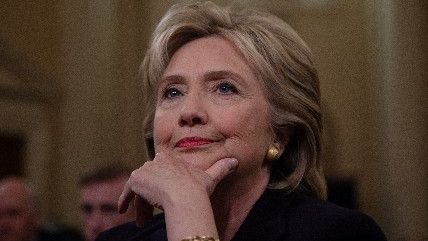 (Jeff Malet Photography/Newscom)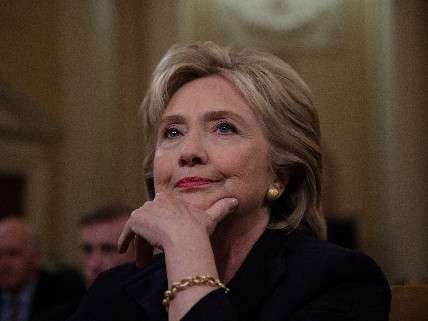 Newly revealed emails, released via a court order in relation to a public records lawsuit filed by the conservative legal watchdog group Judicial Watch, cast yet more doubts on Hillary Clinton's claim that she used a private email server while serving as secretary of state merely "for convenience." 
Among the 165 pages of emails released Monday, the Associated Press notes one particularly telling exchange from March 2009 between Clinton (who had been in office barely two months) and aide Huma Abedin: 
"I have just realized I have no idea how my papers are treated at State," Clinton wrote to Abedin and a second aide. "Who manages both my personal and official files? … I think we need to get on this asap to be sure we know and design the system we want."
You can't have it both ways, Madame Secretary. Either you didn't know the rules or you thought you were above the rules. 
The AP adds, "In a blistering audit released last month, the State Department's inspector general concluded Clinton and her team ignored clear internal guidance that her email setup violated federal records-keeping standards and could have left sensitive material vulnerable to hackers." Reason's Peter Suderman wrote after the report's release, "It makes clear that [Clinton] refused to play by the rules while acting as Secretary of State—ignoring them as a point of personal privilege, and creating both security vulnerabilities and transparency and accountability problems in the process."
Yesterday the Washington Post's Chris Cillizza wrote that Clinton's exchange with Abedin "reads to me as though Clinton is both far more aware of the email setup and far more engaged in how it should look than she generally lets on publicly," which he describes as "deeply problematic" for a candidate so widely distrusted (but not by former New York Times editor Jill Abramson, who inexplicably declared Clinton "fundamentally honest" in a recent Guardian column). 
Vanquished Democratic presidential also-ran Sen. Bernie Sanders (I-Vt.) famously said at an early debate that he would not make an issue out of Clinton's "damn emails," which many Democratic loyalists appreciated as a civil gesture from the insurgent candidate. Sanders later reiterated that he wouldn't make Clinton's character an issue, but would not shy away from critiquing her judgment. Yet, with each new batch of emails released — thanks to over 30 lawsuits filed by news organizations and legal activists, not through any willingness to be transparent on Clinton's part — Sanders' decision to lay off the emails seems like a missed opportunity.
As the FBI investigation into Clinton continues with no clear end in sight, emails like the one noted here further erode Clinton's claim to superior judgment and her willful doublespeak reinforces the impression held by many (not all of whom are fire-breathing conservatives) that she is far from "fundamentally honest."