Lunch Lady Sexting Case Brings Down Unconstitutional Minnesota Law
The law criminalized any sex-related communication with someone under 16 years old.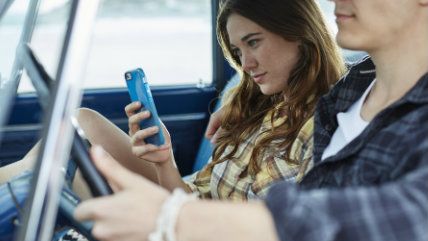 (SCIENCE PHOTO LIBRARY/Science Photo Library/Newscom)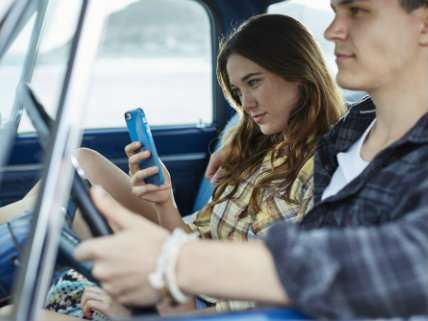 The Minnesota Court of Appeals just struck down a key part of the state's law concerning sexual communication with minors. The law, passed in 2014, was ostensibly aimed at preventing predators from "solicitation of children to engage in sexual conduct" but, in effect, criminalized conduct that falls far short of solicitation.
For example, the court noted, "a music video producer [who] creates a video with sexually explicit depictions or lyrics" could be found guilty under the law if he or she uploads the video to YouTube and someone under age 16 sees it. So too could the producer of a film depicting sexual content or the writer of young-adult fiction that includes a sex scene. 
Under the overbroad statute, any adult who "solicits a child"—defined as anyone 15-years-old or younger or an undercover officer pretending to be 15 or younger—to engage in sexual activity is guilty of a felony. Furthermore, any communication with a child "relating to or describing sexual conduct," even without trying to solicit them for real-world activity, is also a felony if it is done with "the intent to arouse." Lastly, "distributing any material, language, or communication, including a photographic or video image, that relates to or describes sexual conduct to a child or someone the person reasonably believes is a child" is a felony. Those found guilty under the statute face up to three years in prison and/or a fine of up to $5,000. 
The law wound up before the appeals court after a father found photos of a nude woman on his 15-year-old son's iPad. The images were sent via Instagram message by Krista Ann Muccio, a woman in her early 40s who was a lunch lady at the boy's high school, and a search revealed that Muccio and the boy had exchanged sexually explicit words and photos online. Muccio was arrested and charged with one count of felony communication with a minor describing sexual conduct and one count of possession of pornographic material involving a minor.
A district court found there was insufficient evidence to establish probable cause for trial on the child-porn count. It dismissed the first count on the grounds that Minnesota's solicitation of minors law was overbroad and unconstitutional. The state appealed. 
On Monday, a three-judge panel for the appeals court upheld the lower court's ruling, finding that the second part of the statute—the part that prohibits merely "engaging in communication" of a sexual nature with someone under age 16—was indeed unconstitutional. "The state does not dispute that [the law] s a content-based restriction on speech," notes their decision. "Content-based regulations are presumptively unconstitutional under the First Amendment," with the state bearing the burden of showing that the restriction is not in violation—something it did not sufficiently do. 
"The state first argues that the speech prohibited …  is not entitled to First Amendment protection because it is speech integral to criminal conduct," note the judges. But while "soliciting sex from a child is speech integral to criminal conduct if made with the intent to induce or commence illegal activity," Minnesota law "sweeps more broadly" and bans "speech which precedes the solicitation of criminal sexual conduct by sexual predators. Therefore, the prohibited speech is one step removed from speech which has, thus far, been recognized as speech which is integral to criminal conduct." 
As for the state's charge that the speech it prohibited was analogous to child pornography, and therefore unprotected under the First Amendment, the court was similarly unconvinced. 
The policy justifications supporting the child pornography category of unprotected speech are inapplicable here because children need not be exploited by or even involved in the process of producing the speech prohibited by [the statute]. Indeed, children need not be depicted, nor is any imagery required. There need only be a "communication…relating to or describing sexual conduct." Accordingly, this unprotected-speech category is inapplicable, and we cannot expand its application.
Ultimately, the speech Minnesota aimed to prohibit "is not limited to speech integral to criminal conduct or obscenity, nor can we deem the proscription permissible by analogizing it to child pornography," the court concluded. "We therefore conclude that the statute proscribes protected speech and implicates the First Amendment."