High Fashion in the Uncanny Valley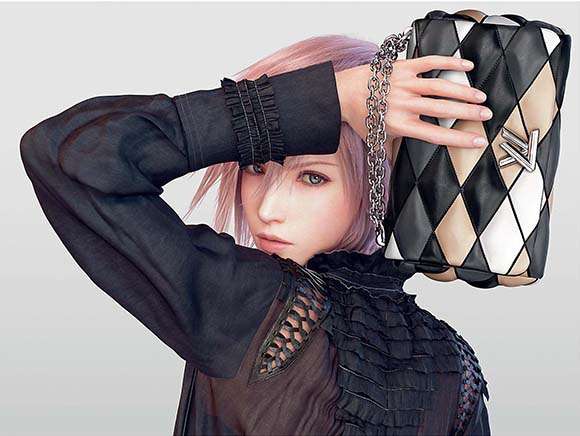 It's a case of art imitating life imitating art. Luxury fashion house Louis Vuitton's latest celebrity model isn't, strictly speaking, a real person: She's a computer-generated video game character from the popular Final Fantasy series.
Vuitton's current digital "it girl" is Lightning, a warrior who has traded in her gunblade for designer merchandise—at least temporarily. On the ad pages of a recent Vanity Fair, Lightning can be seen sporting her trademark pink hair and brandishing a metallic leather handbag. The clothes and purse look ordinary, but her skin is smoother than that of even the most excruciatingly photoshopped human woman. Lightning dwells in the uncanny valley; she is real enough to pass as a model, but her dead eyes and perfectly regular features create a subtle sense of unease.
Final Fantasy artist and designer Tetsuya Nomura assisted with Lightning's design for the advertisement campaign, ensuring that she remains true to her game self. The campaign has been received positively by critics: The Independent's Alexander Fury hailed the advertisements as "refreshing" and "noteworthy."
"They feel new, exciting, even a little unsettling," he wrote. "It's all a bit sci-fi, a bit AI, to have computer-generated images modeling our fashion."
This article originally appeared in print under the headline "High Fashion in the Uncanny Valley".