Clinton Versus Trump Begins, D.C. Passes $15 Minimum Wage, How Capitalism Enabled Feminism: A.M. Links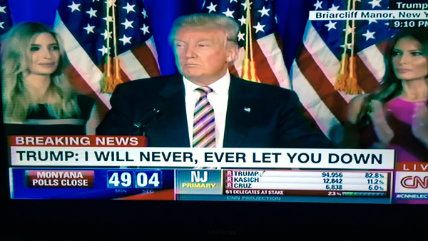 screenshots from CNN

Hillary Clinton officially claimed the Democratic presidential nomination Tuesday night after winning primary races in New Jersey, New Mexico, South Dakota, and likely (though it's still not official) California; Sen. Bernie Sanders was victorious in Montana and South Dakota.

Clinton and Donald Trump played the magnanimous card in their respective speeches last night, each calling for "unity" and welcoming Bernie Sanders supporters to their flocks. Trump also took a page from Rick Astley, declaring that he would "never, ever let [us] down."
Republican Sen. Mark Kirk takes back his Trump endorsement.
Washington, D.C., will join the ranks of U.S. cities with a $15 minimum wage.
Capitalism doesn't "care" for women, but it has made life easier for them.
Once again: no, the average age of minors in prostitution is not 13-years-old.
Tennesse's "Blue Lives Matter" bill would make cops a protected class for hate-crime purposes.
As porn goes, so goes technology.
Democrats and Republicans in Congress voted overwhelmingly for a new chemical safety act; it now heads to the White House.
Follow us on Facebook and Twitter, and don't forget to sign up for Reason's daily updates for more content.