The Transparency Bullies
Climate change skeptics have rights to free speech and privacy, too.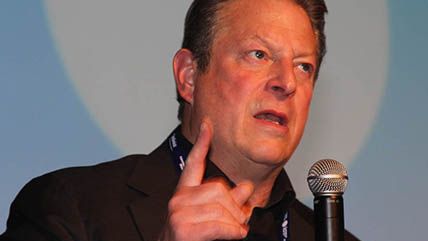 (campuspartybrasil via Foter.com/CC BY-SA)
Should we just go ahead and throw global warming deniers in jail?
A surprising number of pundits and politicians suddenly seem to think that's not such an outrageous idea. "Was it appropriate to jail the guys from Enron?" Bill Nye, a.k.a. the Science Guy, mused in an April interview with Climate Depot. "We'll see what happens. Was it appropriate to jail people from the cigarette industry who insisted that this addictive product was not addictive, and so on?" Nye, the former host of a popular PBS show in the 1990s, maintains that those who doubt the severity of, and human impact on, the warming climate, "are leaving the world worse than they found it because they are keeping us from getting to work. They are holding us back."
In March, Al Gore appeared at a remarkable meeting of state attorneys general in New York City. Gore's casually authoritarian remarks at the conference—the former vice president insisted that "we cannot continue to allow" the fossil fuel industry to pursue its current pastime of "mislead[ing] the public about the impact they have on the health of our people and the health of our planet"—echoed the intolerant sentiment that Nye had displayed in a Salon interview five months prior. "Part of the solution," the Science Guy said then, "is getting the deniers out of our discourse. You know, we can't have these people—they're absolutely toxic."
This sore-winner urge to censure, untethered to government force, would merely be repugnant, an example of what critics during the Bush administration once decried in other contexts as "eliminationist rhetoric." But Gore was standing literally side by side with power-wielding politicians who brag about making life a living hell for the incorrectly opinionated. "Our offices are seriously examining the potential of working together on high-impact, state-level initiatives," New York Attorney General Eric Schneiderman crowed at the March conference, "such as investigations into whether fossil fuel companies have misled investors about how climate change impacts their investments and business decisions."
How would a law enforcement official know more about how climate change impacts an energy producer's "investments and business decisions" than the corporation itself? Consider the case of the publicly traded coal giant Peabody Energy. Beginning in 2011, when Peabody was trading at around $1,000 per share, the company began including in its annual report this forward-looking caution against the potential downside effects of future environmental rules: "Enactment of laws or passage of regulations regarding emissions from the combustion of coal by the U.S. or some of its states or by other countries, or other actions to limit such emissions, could result in electricity generators switching from coal to other fuel sources."
This warning indeed turned out to be prescient—Environmental Protection Agency (EPA) regulations, coupled with the explosion of natural gas production, took a huge bite out of domestic coal. But for Schneiderman, this nod was too little and too late.
The New York attorney general in 2013 launched an investigation into eight years' worth of Peabody communications, concluding that its public filings were neither pessimistic enough about the coal market nor omniscient enough in forecasting, then last November extracted a settlement in which the company admitted no wrongdoing and in the end did little more than slightly tweak its reporting language. "I believe that full and fair disclosures by Peabody and other fossil fuel companies will lead investors to think long and hard about the damage these companies are doing to our planet," he insisted.
By then the damage was done: Peabody, once the largest non-state-owned coal company in the world, now trades at less than $2 per share. In April, it filed for bankruptcy.
Oil giant ExxonMobil has not yet suffered this grim fate, though not for lack of activist exertion. In an October 2014 EcoWatch article titled "Jailing Climate Deniers," Robert F. Kennedy Jr. posited that "Koch Industries and ExxonMobil have particularly distinguished themselves as candidates for corporate death," because "no other companies have worked harder or spent more money to impede the government from taking action on global warming to safeguard public welfare."
Crimes worthy of RFK Jr.'s corporate death penalty include donating money to nonprofit advocacy groups such as the Competitive Enterprise Institute (CEI) and the Heritage Foundation. "These front groups are snake pits for sociopaths," he hissed.
Schneiderman et al. are acting as if they agree with Kennedy's rants. Last November, the attorney general played the Peabody Energy card with ExxonMobil, subpoenaing nearly four decades' worth of internal communication in an attempt to see whether the company had failed to disclose to investors that it was aware of research showing that carbon emissions were making the planet warmer. In March, former EPA lawyer and current Virgin Islands Attorney General Claude Walker issued another subpoena to ExxonMobil, essentially demanding all documented instances when the company even talked about climate change, including in communications with CEI, Heritage, and nearly 100 other research or advocacy groups (including the Reason Foundation, which publishes this magazine, and which received donations from ExxonMobil many years ago).
CEI, which had derided these fishing expeditions as unconstitutional attempts to suppress disfavored speech, was then hit with a Virgin Islands subpoena of its own, demanding (in CEI's wording) "communications, emails, statements, drafts, and other documents regarding CEI's work on climate change and energy policy, including private donor information," covering the decade from 1997 to 2007. "This is the latest effort in an intimidation campaign to criminalize speech and research on the climate debate," the organization said, in a statement vowing to resist.
California Attorney General Kamala Harris, an enthusiastic member of the Gore-friendly A.G. team, has also been at the forefront of one-way transparency; i.e., government attempts to force disclosure of donors to hated nonprofits. In April, a district court judge ruled against Harris' threat to prohibit the California fundraising activities of Americans for Prosperity (AFP), a 501(c)(3) associated with Charles and David Koch, unless the group discloses all donors above the $5,000 level. (David Koch, chairman of AFP's board, also sits on the board of the Reason Foundation.) That court decision now heads to the 9th Circuit Court of Appeals; meanwhile, a successful Harris attempt to inflict the same disclosure requirement on the pro-speech Center for Competitive Politics is currently at the U.S. Supreme Court.
The high court under Chief Justice John Roberts has a robust track record of defending free speech. But with the death of Justice Antonin Scalia, and with both Hillary Clinton and Bernie Sanders saying their Supreme Court nominee litmus test will be a willingness to overturn the political speech case Citizens United v. Federal Election Commission, continued defense of a robust understanding of the First Amendment is far from assured in the coming decade. Given the Court's tendency to follow public opinion, and the current cultural backsliding on free speech from the campus to the newsroom, these next few years could prove an unpleasant jurisprudential turning point.
It is apparently necessary in 2016 to state what should be constitutionally and morally obvious: Criminalizing unpopular opinions in the name of progress is the work of dictators, not scientists. Giving politicians access to the inner workings of private groups engaged in policy analysis and advocacy will produce selective and nakedly political legal harassment. Today's new powers exercised by Attorney General Harris will be tomorrow's new enforcement tool exploited by President Donald Trump.
The United States—for the moment, anyway—enjoys a First Amendment bulwark against the illiberal fantasies of frustrated activists. Keeping the one-way transparency advocates at bay will be an important bellwether for the future of American freedom.
This article originally appeared in print under the headline "The Transparency Bullies".