A.M. Links: Sanders vs. Clinton, Terror Attack in Istanbul, Trump Doubles Down on Racist Anti-Judge Attacks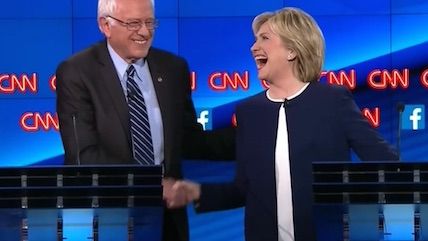 CNN

Voters head to the polls today in California, Montana, New Jersey, New Mexico, North Dakota, and South Dakota.

Hillary Clinton has effectively cinched the Democratic presidential nomination with 2,384 delegates. A spokesman for Bernie Sanders says it's still too soon to crown Clinton the Democratic nominee because her vote total includes superdelegates.
Libertarian presidential candidate Gary Johnson expects a boost in the polls once Bernie Sanders drops out.
"An embattled Donald Trump urgently rallied his most visible supporters to defend his attacks on a federal judge's Mexican ancestry during a conference call on Monday in which he ordered them to question the judge's credibility and impugn reporters as racists."
With the Democratic National Convention coming to the city in less than two months, "Philadelphia wants to avoid a repeat of 2000 when it arrested more than 400 protesters at the Republican National Convention, only to see most cases end in acquittals."
A car bomb attack in central Istanbul has killed at least 11 and injured dozens more.
Follow us on Facebook and Twitter, and don't forget to sign up for Reason's daily updates for more content.