May 2016 Was the Second Warmest May in the Satellite Record: Global Temperature Update
Global climate trend since Nov. 16, 1978: +0.12 C per decade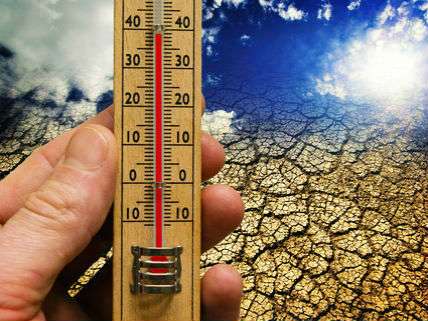 May 2016 was the second warmest May in the satellite temperature record, trailing only May 1998 by 0.11 C, according to the press release from the University of Alabama in Huntsville. Every month I report the findings of UAH climatologists John Christy and Roy Spencer who use satellite measurements to monitor global temperature trends. They further note that compared to seasonal norms, May 2016 was the 8th warmest month overall since the satellite temperature dataset began in December 1978. Additionally, the UAH press release reports:
The 16 warmest months (and 21 of the warmest 25) on the record, however, all happened during one of three El Niño Pacific Ocean warming events (1997-98, 2009-10 and 2015-16). The effect is especially noticeable when comparing temperatures from a specific month. In the May data, three El Niño Mays are warmer than the other 35 by an amount that is statistically significant. …

The upshot, said Christy, is that while there is a clear warming signal in the satellite temperature data, caution should be used when trying to extrapolate long-term conclusions about climate change based on months and years whose temperatures are obvious outliers driven by El Niño warming events.

The 2015-16 El Niño appears to be fading fast. Sea surface temperatures in the east central Pacific have fallen below norms, and a La Niña Pacific Ocean cooling event may be on its way. It is a tiny sample, but 3-year La Niña cooling followed immediately after strong El Niño events in 1972-73 and 1997-98.

"We should expect continued, but erratic cooling through the end of the year," Christy said. "In comparing the current El Niño to the major 1997-98 event, we see that globally the last two months have fallen below the values seen in 1998. The 'race' for the hottest year is getting closer. (See attached graph.) Through May, 2016 (+0.67 C warmer than seasonal norms) is leading 1998 (+0.60 C). Annual anomalies, however, are accurate to only ± 0.1 C, so the two years are really in a statistical tie.

Roy Spencer

Global climate trend since Nov. 16, 1978: +0.12 C per decade

May temperatures (preliminary)

Global composite temp.: +0.55 C (about 0.99 degrees Fahrenheit) above
30-year average for May.

Northern Hemisphere: +0.65 C (about 1.17 degrees Fahrenheit) above 30-year
average for May.

Southern Hemisphere: +0.44 C (about 0.79 degrees Fahrenheit) above 30-year
average for May.

Tropics: +.72 C (about 1.30 degrees Fahrenheit) above 30-year average for
May.
Go here to see the monthly satellite data.