Minimum Wage vs. the Carwasheros
New York's new $15 wage floor pits man against machine.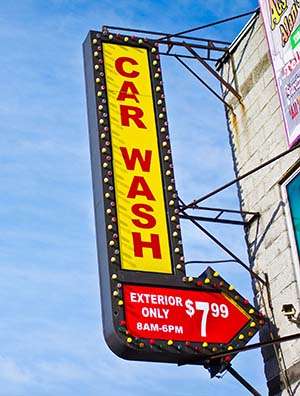 Labor activists have long claimed that working conditions at New York City's car washes are the worst of the worst. In the Big Apple, an estimated 5,000 men scrub and vacuum other people's vehicles for a living. A decade ago, it was common for these so-called carwasheros, many of whom are illegal immigrants from Mexico and Latin America, to earn $3 per hour plus tips, with no extra pay for overtime. Straight cash, off the books.
When demand peaked in the winter months, they would often put in 12 hours a day, six days a week. Regulators paid little attention, so by and large car wash operators ignored labor laws.
The situation started to change in 2008, when state investigators conducted the first car wash sweeps in recent memory. The following year, the U.S. Department of Labor settled a lawsuit against one of the city's largest operators, with cumulative back wages and damages totaling $4.7 million. In 2012, the retail workers union and two affiliated labor groups launched WASH New York, a campaign to organize employees of the city's more than 200 car washes. Last year, Mayor Bill de Blasio signed the Car Wash Accountability Act, which created a punitive new licensing regime.
But it's a law passed in April raising the state minimum wage from $9 to $15 that will have the most profound impact on the industry. Gov. Andrew Cuomo, a Democrat, made the minimum wage hike one of his top legislative priorities, traveling around the state to build support in a red-white-and-blue R.V. To signify its importance, he named the initiative the "Mario Cuomo Economic Justice Campaign" after his recently deceased father. The $15 minimum will take effect in New York City on December 31, 2018.
It's conventional wisdom among progressives that low-skilled workers like the carwasheros stand to benefit most from high wage floors. The opposite is true. The 67 percent wage hike will obliterate jobs at car washes and further the agenda of anti-immigrant conservatives—some of whom explicitly advocate for increasing the minimum wage because it reduces employment opportunities, halting future waves of illegal immigration and encouraging those already here to return to their countries of origin.
When labor costs rise, employers hire fewer people. But some liberal economists say the law of supply and demand doesn't apply to the labor market. Nobel laureate Paul Krugman claimed in a 2014 interview with Business Insider that minimum wage increases have a negligible effect on job losses because they mostly affect service-sector positions that can't be replaced by automation.
Krugman's remarks were out of touch with reality on several counts. In much of the U.S., car washes started automating a half-century ago as operators struggled to find reliable employees. In New York City, owners bucked the national trend because they could tap into a large pool of illegal immigrants willing to work long hours for little pay. Now that labor groups have succeeded in dramatically raising labor costs, the city's car washes will simply play catch-up with the rest of the country—replacing men wielding hoses and rags with nimble units of spinning brushes and massive hot air blowers. It's already starting to happen.
Men vs. Machines
The car wash industry was born in 1946, at a time when more than 10 million American men were coming home from World War II, and Southern blacks, who had flocked to Northern and Midwestern cities to work in war-related industries as part of the Second Great Migration, were looking for new opportunities. The timing isn't a coincidence: In a tight labor market, the car wash business might not have taken off.
The "Minit Man," which was the world's first conveyorized automated car wash system, required a large crew of workers, including vacuum operators, spotters to clean areas the machine had missed, and finishers charged with wiping down vehicles as they exited the tunnel. One worker on the line was occupied solely with maneuvering an overhead rack of spinning brushes to avoid knocking out radio antennas and radiator ornaments.
Mike Dahm, whose father started Mike's Minit Man in Indiana in 1948, estimates that in the early days, the company had 40 men on duty during peak demand. Herb Geller, the son of a Minit Man car wash owner in Dorchester, Massachusetts, recalls a particularly busy day with 50 men on the job.
Big changes came in the 1970s, when the Sherman Carwash Company came out with far more sophisticated equipment to automate the car washing process. Operators were in the market for better machines because it had become difficult to find workers interested in cleaning vehicles for a living. "That's when the revolution started," says Martin Geller, a car wash engineer and former owner with 43 years of experience in the industry. "Sometimes half the guys wouldn't show up, so you lost business. But the machines were there every day."
Operators with the means to make a significant capital investment could eliminate most of their workers. Mike's Minit Man (renamed Mike's Car Wash) was one of the first in the country to go fully automated in 1978. Founder Joe Dahm invested in state-of-the-art machinery, including powerful hot air blowers that replaced the crew charged with drying off vehicles as they exited the tunnel. The cost of a basic exterior wash at Mike's fell to just $2, but the increase in speed and volume led to a significant revenue boost. "We think those blowers set us up for success," says Mike Dahm, now the company's president.
The Free-Vacuum Revolution
Automating the exterior wash required designing brushes that could reliably wipe away every caked in spot of dirt without scratching paint or knocking out side mirrors. It was a major engineering feat. Figuring out how to mechanize an interior cleaning, however, is orders of magnitude more difficult. Only a robot capable of maneuvering around car seats and distinguishing between a misplaced wallet and a crumpled fast food wrapper could replace a human with a rag and vacuum. The technology isn't there yet, and it certainly wasn't available four decades ago.
A solution to that conundrum came via a German businessman named Joseph Enning, who in 1960 first observed the wonders of the machine-assisted car wash while working for a television manufacturer in New York City. Enning was inspired to quit his job and move back to Germany, where he founded the Mr. Wash empire, whose 34 locations cleaned 6.3 million vehicles in 2015.
In Germany, labor laws are more onerous than in the U.S., making hiring workers are more expensive. Enning, who has a Ph.D. in industrial economics, had long been interested in pushing the limits of automation. A Mr. Wash location today can do exterior cleanings on as many as 3,200 cars per day, with just six employees overseeing the work.
Enning's answer to the interior problem was straightforward: Set up an area with free vacuums and put customers to work cleaning their own vehicles. The idea would later catch on in the U.S. thanks to Benny Alford, a second-generation car wash operator in Baton Rouge, Louisiana, who traveled to Germany in 1996 to observe a Mr. Wash facility. "You just couldn't find many people who wanted to make a career out of vacuuming cars anymore," says Justin Alford, Benny's son and business partner.
Benny Alford combined the free vacuum idea with another labor-minimizing technology: Working with a firm called Innovative Control Systems, he installed the first automated sales attendant, so that customers could line up at an electronic gate and pay for a wash without ever interacting with a human. Alford opened his first exterior-only car wash tunnel with free vacuums in August 2001. The setup required only two employees on-site to make sure everything was running smoothly
"Benny's idea was to put a few things together at once," says Eric Wulf, the CEO of the International Carwash Association. "And what he did transformed the business." Benny's washed more than 200,000 cars at $3 a pop in its first year after remodeling, according to a consultant who worked closely with Alford.
Sonny's Enterprises, which helped outfit the new car wash, started selling this model to other clients. Within a few years, Sonny's became the nation's largest producer of conveyorized car wash equipment. "Nowadays more than 90 percent of car washes built in the U.S. only need about three people to run them at once," Wulf explains.
Today, Mike's Car Wash has 17 locations in three states that together did $40 million in sales in 2015. Still an automation pioneer, the company offers a $20 package that includes a tire shine, wheel cleaning, underbody scrub, and wax job—all done entirely by machines. But the equipment costs $2 million per location, which is out of reach for most small businesses.
Bucking the Trend
In New York City, where unskilled labor is plentiful, the capital investment required for full automation didn't make sense. In the 1980s, there was a two-and-a-half-fold increase in the flow of legal immigrants coming into the U.S. from Mexico and Latin America. By 1990, about 10 percent of the foreign-born U.S. population—roughly 2 million people—resided in New York City. (There's no reliable data from this period on illegal immigration, though it tends to track the legal rate.) It thus became relatively easy for Big Apple car washes to find cheap and reliable employees. "It wasn't work that Americans wanted to do," says one veteran operator, who spoke with reason under the condition of anonymity because he's worried about political retribution.
Car wash owners came up with new ways to put these men to work, and some even converted their partially automated tunnels to full-service hand washes.
"In the 1980s, there was a shift to recognizing that there were big profits in detailing," says the anonymous source. "Detailing" means cleaning every crevice of a vehicle by hand—sometimes even the engine.
The same shift occurred in Southern California's car wash industry about a decade later. From 1990 to 2000, the number of illegal immigrants in the U.S. rose from 3.5 million to 8.6 million, according to data from the Pew Research Center—and one in six landed in the Golden State.
Car washes capitalized on the influx. From 1990 to 1997, Herschel Kilgore, a veteran consultant and designer, converted about 180 automated car washes to full-service hand washes. The equipment at these shops was often wearing out, and replacing it with 30 to 40 illegal workers capable of providing additional services was a logical business move.
Labor conditions for some of the workers were a shock to the sensibilities of progressives, however. In California, activists and public interest attorneys took notice in the late 1990s. In 2004, their efforts led California to pass A.B. 1688, the Car Wash Workers Law, which among other things required every operator in the state to obtain a "surety bond," a form of liability insurance. This made it easier for plaintiffs who won court judgments against car wash owners to collect their payouts, and led to an explosion of wage and hour litigation.
In 2008, the United Steelworkers formed the CLEAN Carwash Campaign to unionize California car washes, though it had limited success. Labor activists also began to push for better pay for workers. A big turning point came this April, when legislators in Sacramento (like their counterparts in Albany) passed a statewide minimum wage hike to $15 an hour.
But even at the lower rates, carwasheros in New York and California were voluntarily accepting the jobs. Why would they choose to endure such grueling conditions for such little pay? "Working at a car wash isn't an option that we think is great, but it was their best option," says Don Boudreaux, an economist at George Mason University. "So how do we make them better off by taking that away?"
WASH New York
In 2012, the Retail, Wholesale, and Department Store Union (RWDSU), along with two affiliated groups, launched WASH New York, a campaign to unionize the car wash industry in the Empire State. It was a mammoth undertaking. "We felt that it was important for the movement to show that if these workers can organize, then any workers can organize," said RWDSU President Stuart Appelbaum in a 2014 speech.
It hasn't gone particularly well. Car washes are mostly small, independent businesses, so organizing the industry has involved fighting a succession of expensive battles. More importantly, it turns out many carwasheros aren't interested in joining a union. To date, just 10 car washes out of more than 200 in the city have signed on to join RWDSU.
WASH New York and its allies responded with a plan to make the experience of any car wash owner who resisted their efforts a living hell.
Take 39-year-old Ukrainian immigrant Marat Leshehinsky, the owner of Vegas Auto Spa, a small car wash in the outskirts of Park Slope, Brooklyn. Labor organizers started secretly meeting with his carwasheros in May 2014; in November the workers petitioned to form a union.
Leshehinsky fought them on the grounds that Vegas Auto Spa has annual revenues of less than $500,000, which means it falls outside the jurisdiction of the National Labor Relations Board. So protesters went to Leshehinsky's house in Brooklyn twice and frightened his two small children. On the second occasion, someone threw a rock, chipping Leshehinsky's front door. They also blanketed his neighborhood with a flier that included a personal photo taken from his wife's Facebook page.
On March 4, 2015, shortly before Leshehinsky finally gave up and granted his workers a union contract, RWDSU and its affiliates staged a protest in front of Vegas Auto Spa, during which two members of the New York City Council were arrested for blocking traffic.
Labor groups helped draft a new licensing law, signed by Democratic Mayor Bill de Blasio last June, that among other things will require every car wash operator in the city to obtain a $150,000 surety bond—except for unionized car washes, which only need a $30,000 bond. Since car wash owners with bad credit might not be able to obtain a $150,000 bond, unionizing could be their only path to staying in business.
The New York City Car Wash Association, a local industry group, sued to overturn the law on the grounds that the government can't "interfere in the collective bargaining process on behalf of one side or the other." In a positive sign for the plaintiffs, the city agreed to put a temporary stay on the law while the case is adjudicated. But the car wash industry has already started adjusting to the new labor climate by moving to increase automation.
'The Circle of Life'
"We decided to go exterior-only no-wiping mostly because of the labor problems," says New York City car wash owner Martin Taub. "Do we need the labor department and the unions breathing down our necks?"
Taub, 64, is a Romanian immigrant by way of Israel who over the years has held an ownership stake in about 25 car washes in the city. When he started in the industry in 1975, most car washes were at least partially automated. Then many converted to labor-heavy detail operations, and now they're swinging back. "It's the circle of life," says Taub. "I just wish they would invent some robots."
Taub still owns three car washes—one in the Bronx, one in Brooklyn, and one in Manhattan. Three years ago he converted his Brooklyn location into a modified version of the exterior-only free-vacuum model pioneered by Benny Alford. There isn't enough space to install an electronic gate, so he keeps a couple of employees on site to direct traffic and accept money from customers.
Taub says that his Manhattan location, an enormous operation that spans the whole block from 46th to 47th Street on 12th Avenue, won't remain a car wash for long. He's already in talks with real estate developers to sell the land.
Outfits in less desirable areas of the city are also converting to other uses. Cambria Car Wash in Queens just laid off 20 workers and will soon be replaced by a pharmacy and Dunkin' Donuts. Ofer Amar, the property's general manager, cites "what's coming with the minimum wage" as a major factor.
Taub's Bronx location is still full-service, but he's considering automating there as well. The location brings in more revenue than his Brooklyn car wash, but the advantage of the latter approach is that it's "headache-free," says Taub. When the minimum wage goes to $15 an hour, automating will be a no-brainer. "Since I have 15 guys on the property, I wouldn't be able to charge less than $30," he says. "Who's going to pay $30 for a car wash?"
Amir Malki, a leading car wash equipment installer in the region, says over a dozen car wash operators in New York City have inquired about putting in the necessary machinery to cut their labor costs.
One owner, who talked to reason under the condition of anonymity because he's worried about the political repercussions of speaking out about the minimum wage, says he's considering purchasing $300,000 in equipment, which would allow him to eliminate 15 of the 22 men who currently staff his full-service hand wash.
When the minimum wage goes from $9 to $15, he estimates that his expenses per wash will rise about $7 to $22, meaning he'll have to charge at least $25 to make a profit. "Now put yourself in the shoes of the customer," he says. "The first thing they'll do is wash their cars at home. Or they'll drop from washing their cars three times a month to once a month." If he automates, he figures he could lower his price to about $8. "That's the only way I can think of to survive."
"I can't think of any industry where the service that's provided is so expendable," says economist Boudreaux. "In economic terms, you'd say that the demand for car washes is highly elastic." In other words, the industry faces strong pressures to keep prices down, because car washes aren't a necessary service, so an increase will lead to a quick fall-off in customer traffic. That's why most can't afford to pay their workers $15 per hour and stay in business. "Car wash operators have no choice but to automate," says Boudreaux.
Those lacking the capital or credit to fully automate can also purchase equipment piecemeal. One option is to install a Dry 'N Shine—a giant spinning wheel wrapped in absorbent material that rolls over the vehicle to sop up moisture. Amir Malki says the machine can eliminate as many as six guys. But it costs about $70,000 including installation, so prior to the passage of the $15 minimum wage his New York City clients mostly held out. "They'll come around," says Malki.
Southern California operators are also starting to automate. In 2004, Tom Ennis Jr. started construction on a full-service car wash in El Segundo, but he shifted course later that year when the Car Wash Workers Law was signed by then–Gov. Schwarzenegger, a Republican. El Segundo 5-Minute Express opened in 2006 as the first fully automated car wash with free vacuums in the region.
Since then, Ennis' competitors have been slowly following his lead. Herschel Kilgore, the designer of El Segundo 5-Minute Express, estimates that in five years about 90 percent of Southern California's 1,500 conveyorized hand washes will be automated or closed, mainly because of unionization, minimum wage laws, litigation, and other regulations that are driving up labor costs. The carwasheros in Southern California and New York City will have to scramble to find new jobs.
California businessman and former gubernatorial candidate Ron Unz thinks this is "a feature, not a bug" of minimum wage laws. Writing in The American Conservative in 2011, Unz observed that "in today's America a huge fraction of jobs at or near the minimum wage are held by immigrants, often illegal ones." Mandating higher wages would mainly hurt the "most recently arrived, especially illegal ones with weak language or job skills"—in other words, those "who possessed the weakest ties to American society."
"To a large extent, the undocumented job window in America would have permanently slammed shut," Unz wrote. He even suggested that the U.S. Border Patrol will gradually become unnecessary. Unz is probably right that job-killing regulations are a more effective immigration deterrent than armed men or Donald Trump's $8 billion wall.
Unz's economics are sound; it's his moral compass that's questionable. As for minimum wage activists and union organizers, if you take their rhetoric at face value, the reverse is true. "Every worker, regardless of what they do or where they came from, is entitled to be treated with dignity and respect," said RWDSU's Appelbaum last year.
If progressives want to get behind an anti-poverty program that would actually help immigrant workers, they should support an expansion of the Earned Income Tax Credit (EITC). Illegal immigrants are already eligible for this federal program, which provides a direct income subsidy to low-wage workers. In a May 2015 op-ed in The Wall Street Journal, Warren Buffett called the EITC a better way to deliver on "the American Promise" of "a decent life for anyone willing to work."
"I may wish to have all jobs pay at least $15 an hour," Buffett wrote. "But that minimum would almost certainly reduce employment in a major way, crushing many workers possessing only basic skills."
Is it more dignified to have little pay or no pay at all? The $15 minimum wage will be most detrimental to those men and women abroad who in the future won't bother coming to the U.S. because the American job window has been "slammed shut." But their poverty will be out of sight, never troubling the conscience of Appelbaum and his fellow progressives.
This article originally appeared in print under the headline "Minimum Wage vs. the Carwasheros".