Top Chef Meets The Sopranos in New Drama Feed the Beast
AMC show revolves around a restaurant venture that gets all mobbed up.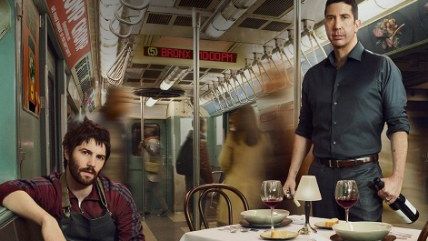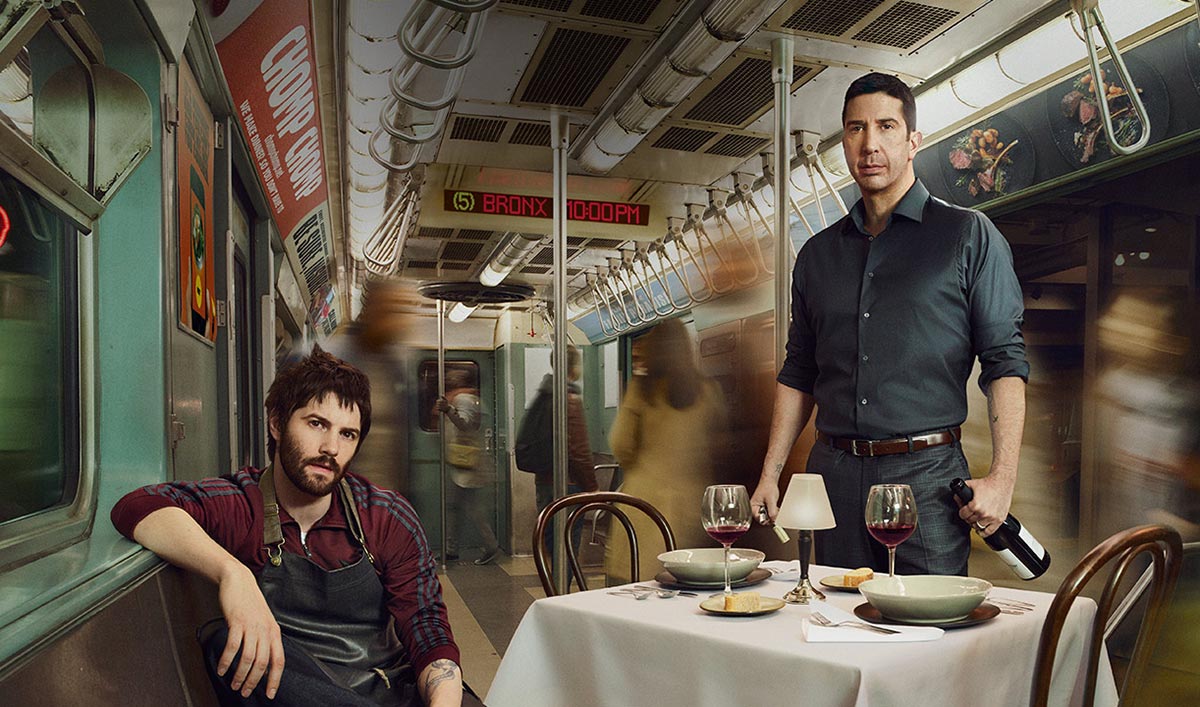 Feed the Beast. AMC. Sunday, June 5, 10 p.m.
It turns out that a surprise visit from Gordon Ramsay is not the worst thing that can befall a chef. There's also having your fingers chopped off by angry mobsters, being beaten senseless by a vengeful cop, getting slapped around by a Nazi father-in-law, having your son struck dumb after witnessing his mother's death in a hit-and-run, and watching your entire restaurant burned down by a cokehead arsonist.
So it goes, anyway, in AMC's new drama Feed the Beast, a sort of Old Testament version of The Joy Of Cooking as imagined by Job, in which pairing the lamb cooked in parchment with the wrong wine has consequences much more serious than a dismissive notice in Zagat's.
Feed the Beast pairs David Schwimmer and Jim Sturgess (Cloud Atlas) as a couple of old friends forced by dire circumstances to repair a brutal rupture in their relationship and revive a dusty, discarded dream of opening a gourmet restaurant on the mean Bronx streets where they grew up.
Schwimmer plays Tommy, once a top sommelier, reduced to working as a drunken wine salesman as his life imploded following the death of his wife at the hands of a hit-and-run driver that left him a single father to a gravely silent little boy.
Their situation, though sketchy, looks rock solid next to that of Tommy's chef buddy Dion (played by Sturgess), whose amicable good humor masks a street-punk core and a cocaine-driven self-destructiveness.
Just released—surprisingly early—from a long prison sentence for torching the restaurant where he and Tommy worked together, Dion is trying to skip town before facing debt collection for the place he burned. Ziggy Woijchik (David Patrick Kelly, a glad-handing ad executive in Mad Men), the mobster owner, is known as the Tooth Fairy for his none-too-subtle collection tactics.
When escape proves impossible, Dion persuades Tommy—who's just quit his job in a prideful and inebriated rage over the indignity of having to grovel before "people who don't know a goddamn Syrah from a Sauternes"—to resurrect their plans for a gastronome Greek restaurant in a (hopefully) gentrifying corner of the Bronx badlands.
That plan is even more complicated than it seems. The relationship between the relatively straight-arrow Tommy and the hustling Dion is both complex and seriously damaged by old slights, including some with a possibly sinister cast. Yet to be explained is the connection—if any—between Dion's arson and the accident that killed Tommy's wife, which occurred on the same night.
Further straining things: Dion's failure to disclose to Tommy the Tooth Fairy's Shylockian liens on the new restaurant's revenues, or the demands of a bullying cop for intelligence on the mobster. ("I am Ahab and that Tooth Fairy, that fat piece of shit, is my white whale.")
Tommy, meanwhile, has his own issues, particularly with his only funding source: his estranged father, a racist who hasn't spoken to him since Tommy's marriage to a black woman. The strings attached to the father's bankroll are potentially the most threatening of all: He wants to spend unsupervised time with his half-black grandson.
Feed the Beast is based on a Danish TV series, Bankerot, that was less of a drama than a dark comedy. Elements of that remain, not just the occasional wisecracks (Dion: "What's the one thing everybody says the Bronx doesn't have?" Tommy's dad: "White people.) but the endless pileup of calamitous circumstances, like an endless loop of Keystone Kops mishaps. And if you don't sense the bleak humor, the show's set-up can sometimes feel a bit contrived.
But Feed the Beast is ultimately a study of characters caught up in not-so-quiet desperation, struggling for survival in an irrationally and implacably hostile universe, and it's the bobbing, weaving mutual orbit of Schwimmer and Sturgess that make the show an absorbing experience.
Sturgess' scene-to-scene shape-shifting, remolding himself from charming con man to steely thug in the blink of an eye, has a boundless, nutty energy. And though it doubtless exasperates Schwimmer for critics to keep writing this, more than a decade past Friends and after he's already done magnificent against-type turns as a military martinet in Band of Brothers and the loyalty-torn Robert Kardashian in The People v. O.J. Simpson, there is not a trace of Ross Gellar in his performance as a broken man in powerless thrall to a ghost.
For all that, the best performance in Feed the Beast is that of 10-year-old Elijah Jacob, in his first Hollywood role, as T.J, Tommy's stricken son. Jacob doesn't speak a single line in the two episodes I saw, but his wide blue eyes, elastic brows and wry grimaces are worth more words than a stack of screenplays. I hope the writers have Tommy keep an eye on him; chop off all the toes and fingers you want, but Jacob is the one loss that Feed the Beast wouldn't survive.