A.M. Links: Hillary vs. Bernie, Violent Protests at Trump Rally, Suspected Terrorists Arrested in Germany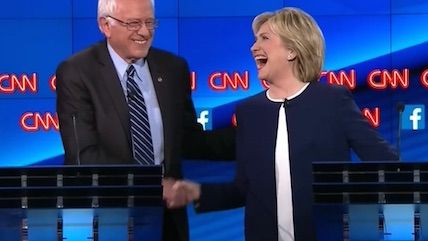 CNN

Hillary Clinton: Donald Trump's "thin skin" could set off a world war.

Hillary vs. Bernie: Among California voters "almost half of Clinton's supporters said they would enthusiastically support Sanders if he was the party nominee. Just under a quarter of Sanders' supporters said the same thing about Clinton."
Violent protests erupted outside a Donald Trump rally in San Jose last night.
"Authorities in Germany are monitoring almost 500 Islamic extremists they believe pose a potential security threat, officials said Friday, a day after the arrest of three men suspected of planning to carry out an attack in the country for the Islamic State group."
Donald Verrilli is stepping down from his position as solicitor general in the Obama administration.
Today is National Donut Day.
Follow us on Facebook and Twitter, and don't forget to sign up for Reason's daily updates for more content.