After Winning Regulatory Battle Against Ride-Sharing Firms, Austin Turns to Black Market and Deregulation
The mess left in the wake of a battle with Uber and Lyft has city residents using illegal drivers to get around and officials considering dropping many rules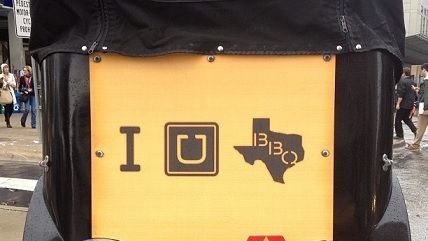 Austin, Texas residents voted earlier this month to leave themselves stranded by the side of the road frantically searching for a ride. Well, that's not what they'd say they did. Strictly speaking, they voted to stick it to corporate interests—by supporting political interests who favored other corporate interests. In response to Austin voters' refusal to pass a ballot measure to overturn new city regulations on the ride-sharing services, Uber and Lyft promptly ceased operating there. And that left plenty of people stranded.
Fortunately, as always when government makes it difficult or impossible to do business legally, people will do it anyway, despite the law. That's not an ideal solution, but at least it helps get people where they want to go. And bizarrely, pro-regulatory city officials may be poised to belatedly embrace deregulation as a solution to their ills.
Before Uber and Lyft, the city was served only by heavily regulated taxi companies that were protected from competition and unresponsive to the market. "The City of Austin has issued just over 900 taxi permits. Fares are set by the city, and there is no incentive available to encourage drivers to work late-night shifts when demand peaks," points out Time Warner Cable News.
By contrast, the popular ride-sharing services offered flexible pricing and a dynamic pool of drivers to get passengers from one place to another. Mediocre, politically protected taxi companies were uncompetitive. So city officials moved to force Uber and Lyft to operate just a bit more like those taxi companies with whom politicians had long relationships. Led by Ann Kitchen, who has received substantial political donations from the taxi industry, city council members voted to subject "transportation networking companies" (the bureaucratic moniker for ridesharing outfits) to red tape including city background checks and fingerprinting.
This was a hobbling blow to outfits that aren't traditional employers, but specialize in brokering deals between providers and customers.
Uber and Lyft weren't happy, and moved to place a measure on the ballot to rescind the regulations. But it wasn't just a battle between corporate interests and local pols. Petitions for the measure were distributed by bars and nightclubs supportive of services that safely and dependably transported people to and from their doors, and signed by those same customers.
But that wasn't enough. A majority of the 17 percent of Austin voters who turned out chose to stick it to big business—and to themselves. And Uber and Lyft pulled out of the city.
By all reports, the results have been a mess. About 10,000 drivers lost their gigs, bars are reporting a decline in business, and some honestly unanticipated hiccups have been reported, such as particular inconvenience for disabled residents who need to find new ways to get around.
And, ironically in the wake of a "victory" for pro-regulation forces, there's been a big surge in completely unregulated rides arranged by word of mouth, through closed social media groups, and through peer-to-peer services. On Facebook, Austin Underground Ride (currently around 6,500 members) urges former Uber and Lyft drivers to join. "You can post your availability and info on this page and continue making the money you need to feed your families and pay your bills. Riders can post here their needs for a ride as well. We don't need anyone. We can make our own deals as people and take care of ourselves."
On a similar note, Arcade City tells potential downloaders of its app, "Our drivers are entrepreneurs, free to make their own choices about how they want to comply (or not) with government regulations. Some of our drivers want to get fingerprinted and comply with the Austin regulations. Some do not. We respect their choices." The company's Austin Facebook page currently has over 28,000 members.
Technically, underground drivers are breaking the law if they charge more than the federal reimbursement rate of $.54 per mile, and some are concerned about police stings. But the transportation black market has arranged itself to be as undetectable as possible.
That nobody saw this coming is hard to believe. Maybe city officials just don't care.
"The most influential factors on the shadow economy and/or shadow labor force are tax policies and state regulation, which, if they rise, increase both," notes economist Friedrich Schneider of the Johannes Kepler University of Linz, Austria.
Schneider's sentiment isn't isolated.
"Red tape and bureaucratic extortion (bribing) make starting a new business officially a not very attractive option and can lead new firms to the informal sector," warns Maxim Bouev, who is now head of the Department of Economics at European University in St. Petersburg, Russia.
The outcome of new regulations that drove major companies out of a market should have been easily predictable.
Official Austin has been doing its best to fill the gap left by the departure of Uber and Lyft with options other than defiance of the law. The city has encouraged small ridesharing companies to enter the market, it's trying to place the sidelined drivers in new jobs, and local techies are even trying their hand at a new non-profit entrant that will abide by city rules and keep passengers happy.
But the city's massaging of former drivers has resulted in little but "long lines" and "frustration" according to the Austin American-Statesman. And the small competitors and old-line taxi companies have been overwhelmed by unsatisfied demand, with many calls for rides going answered after extended delays, if at all. "Austin has gone back in time 20 years, to an era where the taxi monopoly and the Hertz cartel had a total chokehold on visitors," The Drive reports.
A little late, but better than never, one city official thinks he's found the solution: partial deregulation. "[C]urrent ground transportation regulations for taxis and limousines should be evaluated and brought into alignment with those for transportation network companies," Austin Transportation Department Director Robert Spillar wrote in a memo to the mayor and city council dated two days after Uber and Lyft left town. The changes he recommends "represent a deregulation of the taxi and limousine industries in Austin and would allow these mobility providers to compete in the open market, with the transportation network companies and with each other."
If adopted, that would be… just a bit of a shift in direction for government officeholders who fought to force unwelcome red tape on an industry and lost its major players as a result. It would involve undoing not only their recent policy errors, but the damage they've inflicted over many years. That may take a while.
In the meantime, riders may have to rely on unregulated black market in transportation to make up for the mess created by Austin's pro-regulatory push.