U.S. Could Deploy Forces in Libya 'Any Day,' Joint Chiefs of Staff Chairman Says
Waiting for the Libyan government to get it together.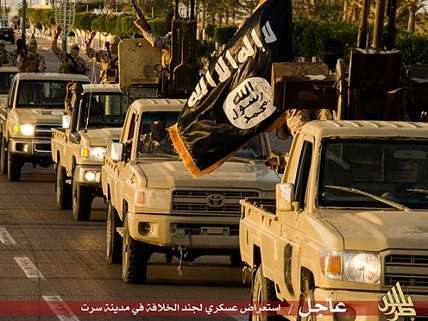 The U.S. is prepared to "deploy capabilities" in Libya but are waiting for the government there to get through an "intense period of dialogue," which could happen any day, Joint Chief of Staff Chairman Gen. Joseph Dunford told reporters during a NATO conference this week. "There's a lot of activity going on underneath the surface," he said, according to the Washington Post.
The meeting with NATO military chiefs in Brussels came after the U.S. and more than a dozen other countries met in Vienna to discuss the situation in Libya. The U.N. recognized government of Fayez Sarraj is competing with the forces of Gen. Khalifa Haftar, who says only he is equipped to fight ISIS, which has conquered territory around Sirte, a coastal city hallway between the capital of Tripoli in the west and Benghazi in the east. Western governments said after Vienna they were open to arming the new Libyan government despite a U.N. ban due to the abundance of weapons in Lbiya.
U.S. troops have already been headed to Libya since December, looking for "partners" in places like Benghazi and Misrata. Dunford declined to comment on those activities, but said the U.S. was looking to make a "unique contribution" in Libya.
ISIS and other terror groups and armed militias have proliferated in Libya since a U.S.-backed intervention in Libya in 2011 during which long-time dictator Col. Moammar Qaddafi was deposed. Last month, Obama offered that "failing to plan for the day after" was the worst mistake of his presidency. Hillary Clinton, who served as Obama's secretary of state from 2009 to 2012 and is a Democratic candidate for president, has pointed to the intervention in Libya as examples of leadership and decisiveness. "I think we did a great deal to help the Libyan people after Qaddafi's demise," Clinton said during one Democratic debate.
ISIS's expansion in Libya comes as the U.S. insists it and its allies have cut into the would-be caliphate's territorial gains in Iraq and Syria. U.S. troops operating there, and in Libya and in whatever other, undisclosed locations, in the war against ISIS fall under the post-9/11 authorization for the use of military force (AUMF), according to the Obama administration, which has tried but failed to get a congressional vote on some kind of ISIS-specific AUMF. Thirteen Republicans joined 125 Democrats to vote in favor of a failed amendment to the NDAA offered by Rep. Barbara Lee (D-Calif.) that would set a 90 day expiration date on the post-9/11 AUMF, requiring the Obama administration to secure a new one.