New Wrinkle in UVA / Rolling Stone Lawsuit: Jackie Likely Accessed Imaginary Rapist's Email
Guess who created Haven.Monahan@yahoo.com?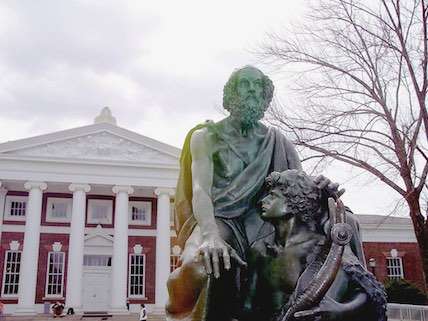 Lawyers for University of Virginia Dean of Students Nicole Eramo have produced yet more evidence strongly suggesting that the fictitious Haven Monahan—the villain in Rolling Stone's debunked gang-rape story—was created by purported victim "Jackie" herself. Eramo's legal team is now claiming that someone accessed Haven's email (Haven.Monahan@yahoo.com) from the server at the office of Jackie's lawyers.
Three guesses who that was.
To recap, Jackie told reporter Sabrina Rubin Erdely that her boyfriend, Haven, was an upperclassmen and lifeguard who lured her into a trap inside an upstairs bedroom of the Phi Kappa Psi fraternity. Haven and eight other men then took turns brutally raping Jackie.
The story is now known to be a hoax, and Eramo—who was portrayed as unsympathetic to Jackie in the story—is suing Rolling Stone for defaming her.
While mountains of evidence contradict Jackie's story, the most damning revelation was that Haven does not exist. No such person has ever attended UVA. Haven apparently exchanged text messages with Jackie's friends, but those messages were sent using an elaborate system for sending fake messages. It's overwhelmingly likely that Jackie sent these messages and claimed they were from Haven.
It's also likely that she created a fake email account for Haven: according to Yahoo, the email address came into existence in early October of 2012, during the time when Haven (Jackie, in actuality) and Jackie's friend Ryan Duffin were regularly corresponding. Duffin eventually broke off contact with Haven when he realized he was talking to an imaginary entity.
Eramo's lawyers, who are not suing Jackie, have nevertheless asked her to hand over all correspondence she has had with Haven. Jackie's lawyers maintain that they have already done so.
"To be clear, Respondent is not withholding any responsive documents relating to the category identified in your letter," Jackie's lawyers told Eramo's lawyers, according to The Washington Post.
But here is an interesting wrinkle:
In the most recent court filing, Eramo's lawyers note, however, that the data from Yahoo shows that someone on the Stein Mitchell law firm's network accessed the Haven.Monahan@yahoo.com e-mail address on March 18, 2016. Four days later, Eramo's lawyers assert in court filings, Jackie's lawyers sent another letter indicating "that Jackie was not in possession of these emails."
To be clear, someone at Stein Mitchell logged in to Haven's email address: either Jackie, or her lawyers. This undermines the notion that they have made available all documents, according to Eramo's legal team.
And if anyone had lingering doubts, the matter is put to rest once and for all: since Jackie has access to Haven's emails, Jackie is Haven.
(Related: Judge Forces Jackie to Testify Over False Gang Rape Story)