Police to Be Trained on Concept of Free Press As Part of Ferguson Journalists' Lawsuit Settlement
St. Louis County PD adopts new "public information and news policy" following lawsuit alleging reporters were denied constitutional rights.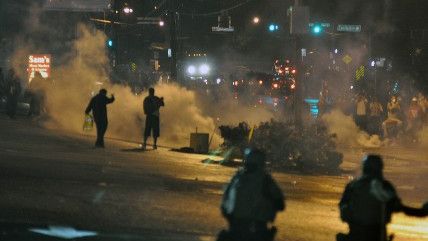 (Loavesofbread via Wikimedia Commons)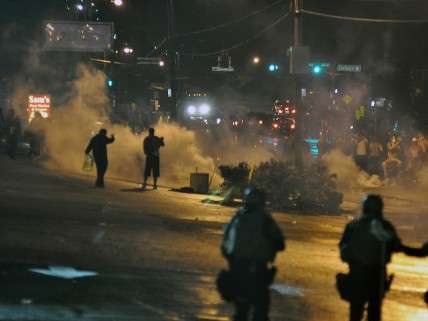 A federal lawsuit filed by four journalists arrested while reporting on the 2014 protests in Ferguson, Missouri against the St. Louis County police was settled last week, with neither side admitting fault.
However, in addition to paying $75,000 to the plaintiffs, the police have agreed to adopt new protocols regarding how they deal with news media, as well as provide mandatory training for officers regarding the new policies. 
The reporters had alleged that their First and Fourth Amendment rights had been violated when they were detained without probable cause, and that they suffered unlawful battery after being shot with rubber bullets, severely handcuffed with plastic cuffs, and denied water for hours during their detention. 
The St. Louis County Chief of Police's office released the new "Public Information and News Media Policy," which states in its introduction, "This Department recognizes that protecting the constitutional guarantees of both fair trial and free press is a responsibility of the police."
The St. Louis Post-Dispatch reports that one of the journalists who filed suit, Ryan Devereaux of The Intercept, wrote in an email following the settlement:
[We] pursued the lawsuit in hopes of improving interactions between the police and the press. We believe it is crucial to ensure that reporters in the field are able to do their jobs — including and especially in situations such as the protests in Ferguson — and we are hopeful that these changes will mark a step in that direction.
The new policy states that police "may not threaten, intimidate or otherwise discourage or interfere with the recording of police activities" and also affirms the public's "unambiguous First Amendment right to record officers in public places, as long as their actions do not interfere with the officers' duties or the safety of officers or others. Officers should assume that they are being recorded at all times when on duty in a public space."