Friday A/V Club: Jonestown's In-House R&B Band Performs 'The Greatest Love of All'
Recorded seven months before the massacre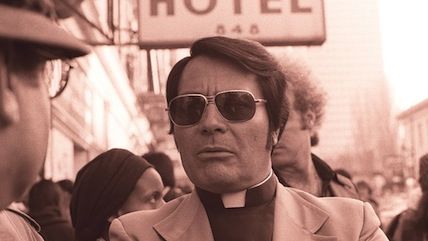 When the Rev. Jim Jones brought his Peoples Temple to Guyana, some of the settlers formed a soul/funk band called the Jonestown Express, which played concerts around the community up until the mass murder/suicide that wiped out the colony in November 1978.
Jonestown is on my mind today, because Mark Lane—mostly remembered these days as a JFK conspiracy writer, but he was also Jones' attorney—died this week at age 89. With that news in the air, I'll post one of the most darkly incongruous musical performances of the 1970s: the Jonestown Express, just seven months before the massacre, performing the song that begins "I believe the children are our future…"
More than 900 people died at Jonestown, including 190 under the age of 13.
And Lane? According to this old Mother Jones profile, written by a rival assassinologist, he escaped by telling a guard, "If you kill us, there will be no one left to tell of the glories of Jonestown." Upon returning to the States, Lane then embarked on a speaking tour titled "The Jonestown Horror: An Eyewitness Account."
(For the full concert recording from which this track was taken, go to this site and scroll down to tape #Q174. For past editions of the Friday A/V Club, go here.)