A.M. Links: Trump vs. Clinton vs. Sanders, Facebook Denies Suppressing Conservative News, Obama Plans to Visit Hiroshima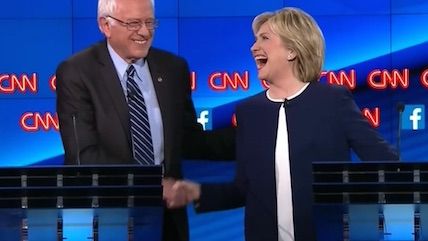 CNN

Voters head to the polls today for presidential primaries in West Virginia and Nebraska.
According to a new poll, "former Secretary of State Hillary Clinton and Donald Trump are running neck and neck in the key presidential Swing States of Florida, Ohio and Pennsylvania, but Sen. Bernie Sanders of Vermont runs stronger against the likely Republican nominee."
President Obama plans to visit Hiroshima later this month. It will be the first time that a U.S. president has visited the site of the atomic bombing.
Facebook is denying reports that it suppressed conservative news.
"The State Department has lost all archived copies of the emails sent to and from the man believed to have set up and maintained Hillary Clinton's private email server during the four years she served as secretary, it said on Monday."
Follow Reason on Twitter, and like us on Facebook. You can also get the top stories mailed to you—sign up here.