You're Now Free to Have a Hippie, Crunchy Funeral in Alabama
New law ends occupational license-mandated monopoly on casket sales.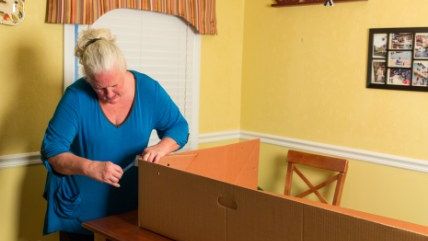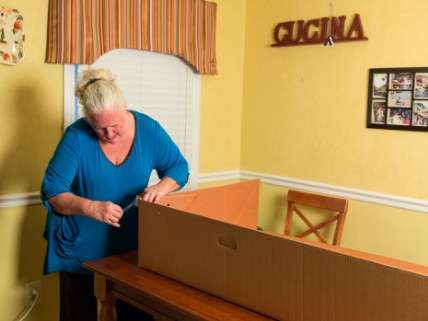 Alabama residents are now free to buy biodegradable cardboard caskets, and more importantly, vendors are now permitted to sell them without having to shell out for a completely unnecessary funeral director's license.
Alabama's governor has signed into law a bill that exempts the sales of funeral-related supplies and merchandise from regulations that require a funeral director's license. These rules allowed for a select group of people to dominate the marketplace and drive up prices. Now other vendors will be able to offer cheaper alternatives.
These other options would include Sheila Champion, who sells biodegradable cardboard caskets to folks who either have their budgets or environmental interests in mind. With the help of the Institute for Justice, which fights against unnecessary occupational licensing, she sued the state and forced a change:
Shelia opened The Good Earth Burial Ground just north of Huntsville, Alabama, to provide inexpensive and environmentally friendly interments. Her innovative business aims to help people reduce the enormous expense of funerals, which now cost over $8,000 on average, while returning remains to the earth in the quickest and most environmentally responsible way possible. Her caskets and shrouds may cost as little as a tenth of what people ordinarily spend on a casket.

Shelia sued the Alabama Board of Funeral Service in federal court because Alabama's law was an unconstitutional restriction on her right to earn an honest living. The law created a monopoly on casket sales for funeral directors, which raised prices for consumers and kept entrepreneurs like Shelia from providing inexpensive, innovative products.

"I am so happy that our Legislature saw the light and passed the bill. This is a victory for The Good Earth, every citizen in our state and the entire country. It confirms the other lawsuits that were won throughout the country and highlights the laws that remain to be changed," said Shelia. "The Good Earth will now be able to sell funeral merchandise and you will soon see information added to the website. Death is the one thing we all have in common, and we should have the option to invite the funeral industry to participate, not have it imposed upon us."
The outcome shouldn't be a surprise. The Institute for Justice was previously behind a lawsuit by the monks of the Saint Joseph Abbey in Louisiana, which had similar protectionist licensing requirements to stop independent casket sales. The Louisiana State Board of Embalmers and Funeral Directors fought against an end to their licensing monopoly for years but ultimately lost in federal courts. They even tried to get the case before the Supreme Court but were declined.
Champion's struggle would prove to be much simpler. She sued only a month ago and now the law has already been changed. Congrats to her and to the Institute for Justice, and to any Alabamans who worry that their deaths might unduly pollute the environment, or just want to save money.