Trump Mulls Support for Minimum Wage Hike, Former Ron Paul Aides Convicted, Turkey Prime Minister Stepping Down: P.M. Links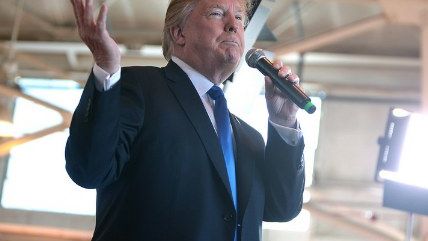 (Gage Skidmore / photo on flickr)
Credit: Gage Skidmore / photo on flickr

Today in Donald Trump reversals: He's open to raising the minimum wage, an idea he opposed during the primary debates.

Sen. Rand Paul (R-Ky.) says he will support Trump as the nominee, keeping his stated promise to support the primary winner, whoever it was.
Three former aides in Ron Paul's 2012 presidential campaign have been found guilty of corruption for hiding a payment to an Iowa state senator in exchange for an endorsement.
Criminal charges have been dropped in the case of the Arizona high school football player who exposed himself as a prank in a yearbook photo that was published. He faced dozens of charges of indecent exposure, but police said the parties involved (his fellow football players) did not want prosecution.
A Trump-supporting tow truck driver reportedly refused to provide his services to a stranded motorist in North Carolina because she had a Bernie Sanders bumper sticker.
Turkey's Prime Minister Ahmet Davutoglu announced he's stepping down, permitting President Tayyip Erdogan to consolidate his power further.
The lawmaker responsible for orchestrating the impeachment of Brazilian President Dilma Rousseff has been ordered to step down to face corruption charges.
Follow us on Facebook and Twitter, and don't forget to sign up for Reason's daily updates for more content.