Trump Calls Cruz/Kasich Team-up 'Weak,' Tamir Rice Family Gets Settlement, Latest Developments on Gay Wedding Cakes: P.M. Links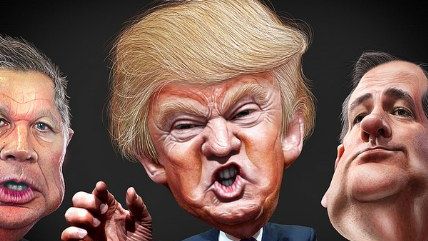 (DonkeyHotey / photo on flickr)
Credit: DonkeyHotey / photo on flickr

Donald Trump thinks Ted Cruz and John Kasich teaming up to try to keep him from landing the Republican presidential nomination is a sign of collusion and says it's "weak" and "pathetic."

Sure, Melissa Click, as a communications instructor at the University of Missouri, attempted to call for force to eject journalists covering a protest on public property, but really, she's the victim here, she says.
Today in the extremely important cake beat: Colorado's Supreme Court is letting stand a ruling that a bakery violated the state's anti-discrimination laws by refusing to bake a wedding cake for a gay couple.
A school choir was stopped from singing "The Star-Spangled Banner" at the Sept. 11 memorial in New York City by a guard because they didn't have a permit for a public demonstration.
The family of Tamir Rice will receive $6 million from Cleveland over the boy's fatal shooting by police.
Will some of this year's elections be a referendum on which public bathrooms which people should use?
The feds have withdrawn from their efforts to try to force Apple to help them decrypt an iPhone in New York when they got its passcode.
Follow us on Facebook and Twitter, and don't forget to sign up for Reason's daily updates for more content.