250 U.S. Soldiers Being Deployed to Syria, Donald Trump Resists 'Toning It Down', North Korea Tests Submarine Missile: A.M. Links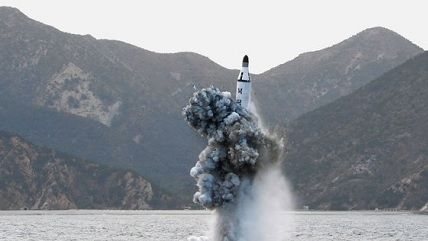 KCNA

President Obama will send up to 250 more U.S. soldiers to Syria as part of the war on ISIS.

Ted Cruz and John Kasich will divide some of the remaining primaries in the Republican contest among themselves. Meanwhile, aides to Republican frontrunner Donald Trump promise he's going to "tone it down," but the candidate says he doesn't want to.
Norbert Hofer of the anti-immigrant Freedom Party is the clear frontrunner after the first round of presidential voting in Austria.
The president of Egypt urged citizens to "defend the state" ahead of planned anti-government protests.
A Dutch journalist was arrested in Turkey while vacationing there for the crime of criticizng Turkey's president for cracking down on dissent.
North Korea says its submarine ballistic missile test was a "great success."
The top two nominations submitted by the public to rename Robert E. Lee Elementary School in Austin were the Donald J. Trump Elementary School and the Robert E. Lee Elementary School. The Adolf Hitler School for Friendship and Tolerance came in seventh.